University of Kiel acquires MacArtney CORMAC winch for use on multiple research vessels
The MacArtney Group is pleased to announce the delivery of a CORMAC 4Stainless Steel Winch system to the Institute of Geosciences at the Christian Albrechts University of Kiel.

The winch system, which was acquired through German MacArtney Group member, MBT GmbH, will be put to good use onboard various research vessels, hereunder the R/V Alkor, which is operated by the GEOMAR Helmholtz Centre for Ocean Research Kiel.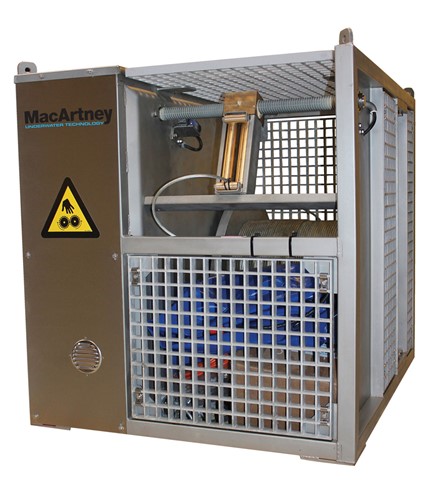 A rugged and flexible winch system
Housed within a self-contained and compact stainless steel structure, the CORMAC winch is rugged, easily portable and offers extensive flexibility to scientific operators such as the Christian Albrechts University of Kiel (CAU), who require the winch to be used on multiple different vessels. The winch is delivered as a plug and play system, spooled with 500 metres of Rochester coaxial cable and complete with termination, slip ring, wireless remote control, cable sheave and cable status indicator.

Future tasks
The CAU contributes to a better understanding of the processes and the development of strategies for a sustainable use and conservation of the ocean. Within the framework of the interdisciplinary Kiel Marine Science (KMS), CAU supports diverse activities of marine research projects with more than 25 research groups at seven different faculties. This includes expertise from areas such as climate research, coastal research, physical chemistry, botany, microbiology, economics as well as law and sociology.
The close cooperation of the Kiel marine scientists is also shaped by joint activities in research and teaching at the CAU facilities Institute for Geosciencesand Research and Technology Centre in Büsum, together with GEOMAR Helmholtz Centre for Ocean Research Kiel.
In the hands of scientists and scholars, the new CORMAC winch will be used to launch and recover oceanographic and acoustic equipment, hereunder, primarily, a Benthos C3D Side Scan Sonar.

According to Managing Director at MBT, Torsten Turla, MBT and MacArtney are very pleased to provide quality underwater technology to empower the important scientific ocean exploration that is undertaken by the University of Kiel and its marine science partners.