Offshore.no - Large frame agreement between MacArtney Norway and AGR
MacArtney Norway and AGR has recently signed a frame agreement for the delivery of a series of purpose built combined winch and handling systems for AGRs RMR pump systems. The agreement has a value of approximately 70 mill. NOK and delivery will take place over the next 3 years.
Subsea leverandøren MacArtney har signert sin største kontrakt noensinne. Den ble inngått med AGR tidligere i år, går over tre år, og har så langt generert 70 millioner kroner i omsetning for bedriften.
Administrerende direktør i MacArtney, danske Anders Andersen, forteller til Offshore.no at denne rammeavtalen er for levering av handlingsystemer til AGRs RMR pumpesystem.
-AGR er en av mine eldste kunder. Jeg har jobbet med de i over 10 år, så denne kontrakten setter vi pris på, sier Andersen.
-Våre største kunder er AGR, Oceaneering, APL, Framo Engineering og Kongsberg Gruppen, og vår ordreserve er for øyeblikket på 150 millioner kroner. Dette er veldig bra til å være et firma med knapt 20 ansatte, legger han til.
MacArtney Norge er en del av konsernet MacArtney Danmark, så når de har det travelt, kan de trekke ressurser fra moderselskapet, ifølge Andersen videre.
MacArtney leverer ferdige løsninger til subsea markedet, og omsetningen i 2006 var på 90 millioner kroner. I år forventer de mer enn en dobling av omsetningen: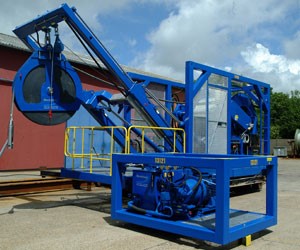 Vi har lagt om driften fra en leverandør av enkeltkomponenter til komplette løsninger, og det har gitt resultater. Men nå har vi det så travelt at vi av og til må si nei til og med våre største og beste kunder, og det gjør vondt, avslutter Andersen.

Publisert: 24.04.2007
Av Stein Arve Tjelta - offshore.no