MaritimeJournal - Noordhoek Expands Subsea Capabilities
Dutch subsea contractor Noordhoek Offshore BV has purchased a MacArtney Focus - 2 ROTV system to complement the existing fleet of survey platforms and ROV's. The ROTV will enable Noordhoek to provide a broader range of additional services to the market. In order to optimise vessel utilisation and provide continuity for clients, the system will be delivered with a complete spare towed body (including all the interfacing options).
The vehicle can be considered as the standard solution in the market. The configuration has been designed to be deployed both from one of the Noordhoek operated fleet of vessels or from any other vessel providing sufficient deck space on the stern.
The features of the vehicle include interfaces for MBES, SSS, sub-bottom profiler, standard subsea positioning instruments such as gyro, transponder, sonar and bathymetric system as well as to cameras. There is also a dedicated launch and recovery system (LARS), full multiplexing facilities and multiple channel communication to the surface.
The first assignment for the vehicle is a pipeline inspection project between Ireland and the UK. Noordhoek will be proposing the ROTV not only for inspection type assignments but for pre-lay route surveys and in general as an efficient tool to acquire high quality and high resolution geophysical data. The equipment is currently being assembled and Noordhoek expects delivery and sea trials to take place in early April. Immediately after the completion of trials, a series of assignments will be executed, both in the North Sea and in the Irish Sea. The deployment of the ROTV equipment is related to long term pipeline inspection contracts that Noordhoek secured in recently.
At the same time, Noordhoek will be working on deploying the ROTV for pipeline and cable route surveys. The vehicle interfaces, in combination with the standard navigational aids used to operate the vehicle, deliver the advantages of speed of operation (average of 3 to 4 knots) and the operability in cross current situations. Data acquisition will be done using Qinsy and CODA for all geophysical data (online and processing).
This extension of the Noordhoek scope of services provided to the offshore market concurs with the development of in-house data processing facilities. The fully equipped data centre has been operational for six months and accommodates personnel for the data processing, charting and reporting of the Noordhoek survey assignments as well as for third party data sets.
MJ Information No: 22713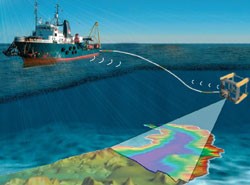 The new ROTV will be deployed from Noordhoek's DP Class 2 diving support vessel.