MacArtney to Launch and Recover Water Column Sampling Equipment in Canadian Great Lakes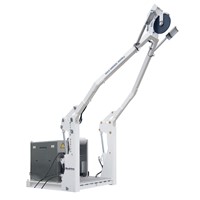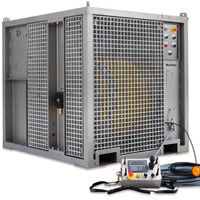 MacArtney Canada, working for Environment Canada, recently supplied a freshwater oceanography marine lifting device for water instrumentation, profiling and sampling apparatus.
Working with Environment and Climate Change Canada, a government-affiliated department, MacArtney Canada have supplied a Launch and Recovery System (LARS) for freshwater oceanography in the Great Canadian Lakes.
Installed aboard a Canadian Coastguard multi-purpose vessel, the Danish designed and manufactured LARS provides a complete package for easy installation and removal of a CTD (Conductivity, Temperature, and Depth) rosette sensor suite of underwater instrumentation.
Water Science and Technology, WST, a research support section of Environment and Climate Change Canada, provide support to research and monitoring groups for vessel sampling operations in partnership with the Canadian Coastguard. The deployment and retrieval of the equipment for the water column sampling via the CTD rosette fell to MacArtney to devise.
Devising the full LARS scope of supply MacArtney Canada provided a CORMAC Q5 high-speed winch, MERMAC A10 A-Frame, Hydraulic Power Unit and Remote Control System. Commenting on the scope of supply MacArtney Canada's General Manager, Tom J. Knox stated,
"We are thrilled to be able to support the Environment and Climate Change Canada at the Canadian Government from the new MacArtney Canada operation located here at COVE in Nova Scotia. This is a prime example of a turnkey Launch and Recovery System (LARS) available from MacArtney. The CORMAC Q5 and MERMAC A10 A-Frame combination, time and time again appears to check the right boxes for Canadian ocean technology deployment end-user needs."
Designed to function as a complete system, the LARS includes the dependable and versatile high-speed CORMAC Q5 stainless steel winch. Self-contained in a protective frame the winch is engineered for optimal durability and minimal maintenance. Including several intelligent features, the CORMAC Q5 allows for accurate and effective equipment handling and is perfect for the variable applications required by WST.
Paired with the CORMAC Q5, the MERMAC A10, is designed for efficient handling. The compact and portable A-frame handling system is easy to control and provides the outreach needed for safe launch and recovery.
The MacArtney Group offer local support across the globe. Specialising in system solutions for customers, MacArtney has a robust and reliable product range, fully customisable to suit specific needs and purposes.