CORMAC B - Basic winches with manual or electric drive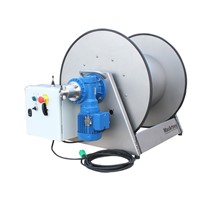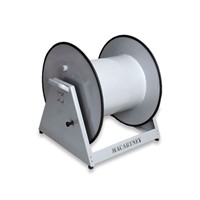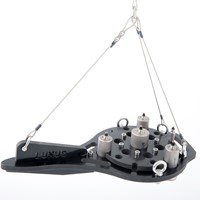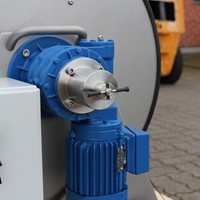 The MacArtney portfolio of winch and handling systems includes the CORMAC B range of basic cable reels.
CORMAC B comes with manual drive as a standard but is also available with hand crank or electric motor drive. The reels feature a highly modular system design and are easily modifiable to accommodate a variety of tasks and applications. Further adding to the flexibility of CORMAC B reels, all systems are designed to be lightweight and highly portable.
CORMAC B reels are primarily used on vessels, barges or rigs to store deck cable under harsh maritime conditions. With frames and drums manufactured from either stainless steel or aluminium, the winches are rugged, highly durable and require very little maintenance.
Beyond cable storage, applications for MacArtney CORMAC B reels include the handling of basic inspection class ROV systems, underwater camera systems, general oceanographic instrumentation, diver communication lines and general marine instrumentation.
CORMAC B reels hold the capacity to store several types of cable typically with a diameter of 8 to 25 mm and a length of up to 1,700 metres - depending on cable diameter. Last but not least, CORMAC B reels are prepared for the integration of a Focal model 180 electric/-electro-optical slip ring.
Highlighted specifications
Available in stainless steel AISI 304 (sand/bead blasted surface treatment) or aluminium AlMg3 (painted surface treatment)
Designed for use with a Focal model 180 electric/electro-optical slip ring
Designed to handle cables with a diameter of between 8 and 25 mm and up to 1,700 metres of length - depending on cable diameter
Mechanical parking brake
Delrin bearings (lifetime lubricated)
Features and benefits
Highly modular reel design
Lightweight and highly portable systems
Low maintenance requirements
Corrosion resistant
Rugged design and materials suited for use in harsh marine environments
Applications
Deck cables for vessels, barges, rigs etc.
Basic ROV systems (inspection class ROVs)
Underwater camera systems (including the LUXUS dropplate and various downhole systems)
Oceanographic instrumentation and sensors (including CTD applications)
Diver communication lines
General marine instrumentation
Options
Hand crank drive
Hand crank drive, gear box (I = 10:1) and anti run back device
Electric motor, 1 x 110/220 VAC with 20 kg pull and variable speed
Electric motor, 1 x 110/220 VAC with 60 kg pull and variable speed
Clutch for free-spooling
Remote control 90