494 Air Treatment System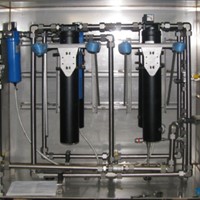 The Model 494 Compressed Air Treatment System (CATS) is designed to supply clean, dry air for any offshore applications. The system is usually supplied as part of a purged/pressurized (Ex p) swivel to ensure the purge control system has a good air supply. Operating pressure is typically 125 psi [8.5 bar]. Flow rates are determined by the customer requirements. Output air is Class 2 in accordance with ISO 8573-1.
While the CATS is typically used with an Ex p swivel, it can be used for any application that requires a source of clean, dry air.
The system can be supplied with a pneumatic system that will automatically use a compressed gas bottle as a secondary supply should the primary supply fail. This will keep a pressurized swivel operating with a loss of primary air.
The components of the CATS are housed in a 316 SS enclosure. External to the enclosure is the air input/output connections. Ingress protection is IP66.
All 400 series products are intended for use in Floating Production Systems (FPS). They are well suited for any application requiring a product that can withstand harsh marine conditions or require long life with minimal maintenance intervals. Designed and manufactured in our ISO 9001 facility under our project management system, products have a two year warranty and are provided with a complete document package.
All products can be modified to meet specific requirements. Installation, commissioning and service is available.
Features
Enclosure: 316 stainless steel
Piping and fittings: 316 SS
IP66
Temperature: -15 °C to + 60°C
Online filter and dryer changes
Options
Emergency use gas input
External pressure gauges
Instrumentation to allow remote system monitoring