TRIAXUS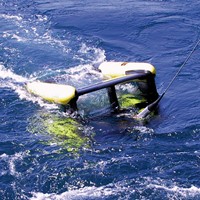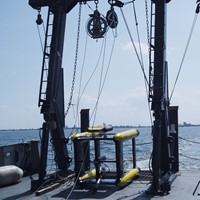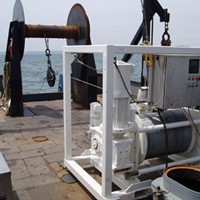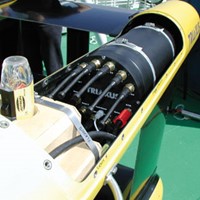 Adding a new dimension to towed vehicles, TRIAXUS is the natural step forward from the existing 2D towed vehicle technology to a true 3D towfish. TRIAXUS uses state-of-the-art computer technology and fibre optic telemetry for vehicle and sensor communication.
TRIAXUS features flaps for vertical as well as lateral control. A powerful industrial PC controls the vehicle based on input from the onboard vehicle control sensors according to the preprogrammed flight path.
TRIAXUS is developed for high-speed oceanographic data acquisition work and is designed to undulate between 1 and 350 metres*. Lateral offsets of up to 80 metres to either side of the ship is possible, enabling the vertical profiling to be carried out in an undisturbed water column. Towing speed* between 2 and 10 knots and vertical speed* of up to 1 metre per second are possible.
TRIAXUS has been designed using the latest carbon fibre moulding technologies, and the Danish Maritime Institute (DMI) has supplied the hydrodynamic design. The embedded telemetry system is based on the successful MacArtney NEXUS fibre optic multiplexer system, allowing interface of up to 9 additional sensor packages using the plug-and-play principle.
*) Depending on vehicle version, tow cable and sea state.
The man machine interface (MMI) is an easy-to-use Windows based software package. The system is designed to carry a broad range of sensor packages from the leading manufacturers of oceanographic monitoring equipment including:

Survey equipment
CTD
Optical plankton counter
PAR and radiation sensor
Fluorometer
Transmissometer
Video plankton recorder
Camera and light
Other oceanographic sensor
Features and benefits
Steerable towed data collection platform
3D undulation
Software controlled steering functions
Highly stable in all planes
Proven hydrodynamic design
Built-in standard control sensors
User-friendly controls and displays 
Modular, rugged and streamlined design
Low noise magnetic and acoustic signatures
Onboard fibre optic telemetry system
High payload for multiple peripheral equipment
Plug and play for additional sensors
High data transmission rates
100 MBit Ethernet subsea LAN port
Electro-optic tow-cable
Applications
Ocean science
Fisheries research
Hydrodynamic studies
Standard vehicle control sensors
Attitude sensor
Depth sensor (Digiquartz)
Altimeter