TrustLink Metal Shell Connectors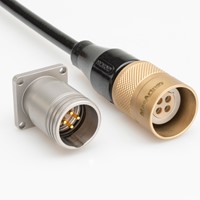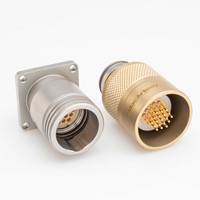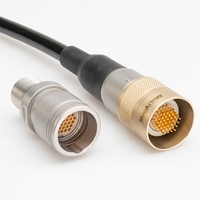 The TrustLink Metal Shell (MS) series includes a range of cutting-edge power and signal connectivity solutions for critical subsea and offshore applications, in metal shell housing.
Based on advanced technology, rugged materials and MacArtney connectivity know-how, the TrustLink MS series is manufactured from stainless steel and comes in three shell sizes compatible with industry standards. Due to their rugged reliability, these high-density connectors are suitable for the harshest of marine environments and the compact modular design is advantageous where limited space is a factor.
The TrustLink MS connectors, provided in several configurations, ranges from 4 to 37 electrical contacts. The series thereby offers excellent flexibility to operators of subsea equipment and systems.
Manufactured as standard in stainless steel the TrustLink connector has a life expectancy of 25 years with cathodic protection and regular maintenance. Connectors manufactured in titanium have a life expectancy of 25 years in a subsea environment with no additional protection.
All TrustLink MS connectors comply with the EN 60664-1 requirements for clearance and creepage distances, meeting safety standards for pollution degree 2 within a microenvironment. All metal parts are provided with an anti-seizing surface.
The connectors are type tested according to the test requirements of the EN 50393 standard, table 5.
All connectors and bulkheads are supplied unterminated. However, custom moulding and termination by MacArtney is available from MacArtney's global stock that includes an extensive range of standard MacArtney cables.
Reversed male/female inserts
The TrustLink series allows mounting of either a male or a female insert in the same housing, making it a very versatile connector.
Trustworthy testing
Thoroughly tested at every stage during production, all TrustLink connectors ensure full integrity, functionality, and first-rate performance from the surface to seabed.

Highlighted specifications
Depth rating 600 bar (mated)
Available in three shell sizes
Up to 25 A rating
Designed and tested to the EN 60664-1 and EN 50393-Table 5 standard
 
Features and benefits
Available from global stock
CCP connectors are available in overmould and boot versions
Interchangeable and reversible male/female inserts
Anti-seizing surface
High pin counts
Available in multiple configurations
Robust and smooth keyway
Fast turnaround time for moulding and termination
Compact modular design
Large range of standard cables in stock
Traceability on inserts
 
Applications
ROV/AUV/trenchers
Naval systems and equipment
Oceanographic systems, equipment and instrumentation solutions
Seismic/ocean bottom systems
Subsea nodes
Underwater camera, video and lighting
Survey systems and instrumentation
Offshore oil and gas systems
Subsea renewable systems
Power supply for underwater pumps
Hazardous environment systems
Underwater telemetry systems
Dredging
Harsh environment monitoring systems
 
Options
Other materials are available on request
Can be supplied with moulding and termination
Water blocked in case of cable damage
PBOF version
Available for pressure balanced systems. Back pressure rated to 600 Bar