Subsea Technology & Rentals are first to invest in MacArtney's NEXUS 8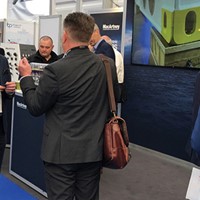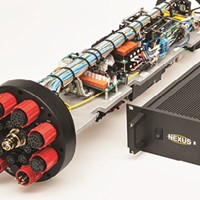 MacArtney is delighted to announce the launch of the "NEXUS 8" at Ocean Business 2021, which is the latest addition to the NEXUS multiplexer family.
The NEXUS multiplexer is the culmination of twenty-two years of experience accumulated by MacArtney, experience supplemented by the constant input of loyal customers to produce a market-leading product, with specifications able to meet all key requirements for data acquisition across a host of subsea platforms.
Subsea Technology & Rentals (STR) have been investing in MacArtney multiplexers for several years and are pleased to be the first to invest in the NEXUS 8. Since STR's original investment for the NEXUS MK IV Multiplexer and NEXUS MK VI (HD) Multiplexer systems, both STR and MacArtney collaborated on design, development and the launch of the NEXUS MK-C, which have been a favoured system with our global customers. The NEXUS 8 is a natural progression for MacArtney and STR to offer to its customers, and these systems will be operational in the Offshore Energy industry from all STR's facilities Aberdeen, Great Yarmouth, Houston, Perth and Singapore.
Scott Johnstone, Group Managing Director of STR, said


"STR are pleased with the addition of the NEXUS 8 MacArtney Underwater Technology Multiplexer systems to our rental inventory. We have seen first-hand the success of the custom MacArtney MK-C systems that were built for STR and acceptance with our customers. The feedback has been a key component in our decision to invest in the NEXUS 8.
For our customers, a key deliverable is the ability to gather huge amounts of data, and the NEXUS MK-C and NEXUS 8 will ensure this can be facilitated."

Phil Middleton, Managing Director, MacArtney UK, added:
"STR have a track record of being the first to invest in new products on many occasions. And we've benefited from their input to our technical team, a policy we actively encourage and pursue with all our customers."
 
Transferable technology
STR have been going through a period of international growth over the last four years, opening new offices in Aberdeen, Houston, Perth and Singapore. A growth pattern that aligns with the global footprint of MacArtney. Both companies are successfully making a smooth transition from the offshore oil and gas industries to offshore renewables.


"We've been able to take our systems and experience from Oil and Gas and use them in the transition to new sources of green energy as a transferable technology, enabling us to optimise the growth in offshore renewables," says Scott Johnstone.


Offshore wind is regarded as being a particularly exciting area, with global expansion gathering pace. Areas such as the East Coast of the USA and Taiwan are seeing intense development, and increasingly sophisticated systems are being used to map out sites for wind farms, followed by construction and servicing in hostile environments, exploiting technologies developed originally for the oil and gas industry.