Signed Sealed Delivered. MacArtney Supply Top Swedish Research Vessel with Customised System Solution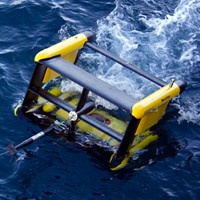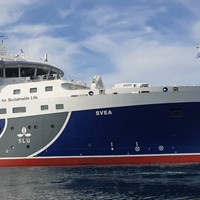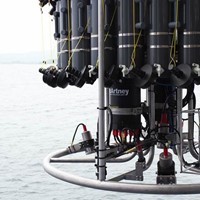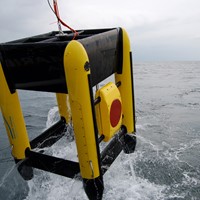 After a successful Sea Acceptance Test in the North Sea, MacArtney has signed off on an integrated system solution for new research vessel, the R/V Svea.
Working with the Swedish University of Agricultural Sciences (SLU) since 2009, MacArtney has provided a range of technology, from camera and light systems, to more recently the co-design and upgrade of a Lobster Sledge with fibre optic multiplexer and interfaces.
Now MacArtney has delivered a fully integrated scope of supply including the MacArtney TRIAXUS and FOCUS 2 ROTVs (Remote Operated Towed Vehicles) and a customised CTD (Conductivity, Temperature and Depth) carousel with water sampling and drop-camera system comprising of LUXUS Power LEDs, Laser Pointers and HD Zoom Camera.
Operating this integrated system solution is the R/V Svea, a brand new research and survey vessel built at the Armon shipyard in Vigo, Spain for the Swedish University of Agricultural Sciences (SLU), and the Swedish Meteorological and Hydrological Institute (SMHI), now operating in Skagerrak, Kattegat and the Baltic Sea.
The new research vessel, constructed for a wide range of maritime research and environmental monitoring, will be used by SLU and SMHI to collect scientific data for environmental monitoring, climate research and fishing quotas. The MacArtney package will be utilised to assist in this mission.
Known for its high-speed oceanographic data acquisition work and designed to undulate between 1 and 350 metres the aft installed TRIAXUS ROTV with lateral offset will enable vertical profiling to be carried out by the R/V Svea in an undisturbed water column. While the bow installed FOCUS 2, acknowledged for its stability in the water, can steadily tow a fully customised sensor package through the Epipelagic Zone.
With both the TRIAXUS and FOCUS 2 on board, versatile research options are catered for, providing a range of application and multiple research options.
The custom-designed carousel CTD with water sampling from Seabird and the MacArtney drop-camera system provides detailed profile and series data. Customised with identical hardware to the TRIAXUS and FOCUS 2 ROTVs, the systems are designed for redundancy and easy to maintain during extended expeditions.

Commenting on the design of the system solution, Emil Andersson, Area Sales Manager for MacArtney's Swedish Operations stated,


"The completion of the system solution package delivered to the R/V Svea rounded off an exciting project with SLU and SMHI. The customised package, designed to offer maximum versatility and to fulfil the specific needs of the customer, provides multiple research options."

The Lobster Sledge, ROTV and CTD package is designed to be fully compatible with the infrastructure and winches of the R/V Svea, requiring no future modification. The integration of this package highlights MacArtney as full system solution provider for this market. The features of the package integration will be detailed in a forthcoming press release.