Sidescan survey in record time with the FOCUS-2
MacArtney has recently delivered two FOCUS vehicles to DOF Subsea. This FOCUS-2 system is another dual system and was built and delivered in record time. The very tight time schedule demanded good co-operation between engineering, project management and workshop. And thanks to enthusiasm and hard work throughout the chain it all came together in time.
Håvard K. Berge, Survey Department Manager told MacArtney, "I would on behalf of DOF Subsea Norway express my appreciation of how well the delivery, FAT and SAT have been performed and the timely delivery of the system and personnel. It has been a very positive experience. The system is currently functioning well on the Mærsk project and, to our great satisfaction; we have already completed the survey much faster than anticipated."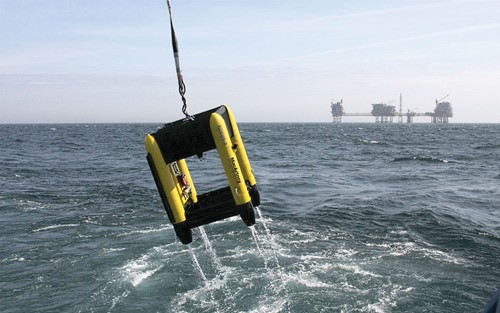 Jesper Madsen, Geologist at DOF Subsea: "The sidescan data we are getting from the FOCUS-2 vehicle is at least as good as what we get from our UHD ROV. Furthermore it seems that the vehicle is less inclined to create reflections."
The system was delivered to DOF Subsea onboard the vessel Geosund at the end of March 2010 where the Sea Acceptance Test (SAT) was being carried out. A pipeline inspection project was planned to start right after completion of the SAT, making it extremely critical time-wise. Lars Jørgensen, Head of Project Management and Henrik Mathiesen, Electronics Engineer, participated in both the Acceptance Test and part of the survey project, training the newly appointed ROTV pilots at the same time.
"It has been a pleasure working with the highly skilled crew onboard, whose professional attitude has made the delivery of the FOCUS-2 system uncomplicated," commented Lars Jørgensen.
One of the vehicles was delivered fully equipped for survey use. It was mounted with an Edgetech side scan sonar, Ring Laser Gyro, Digiquartz Depth Sensor and doppler velocity log.
The other vehicle delivered as a spare but prepared ready to take over after a few hours of sensor integration. The SAT was successfully completed after a few days. Hours after the SAT was completed, DOF started their survey project.
Approximately 800km of pipeline was to be surveyed with side scan sonar on both sides to assess out-of-burial spans, rock dump integrity and possible damage. The areas close to the platforms were to be surveyed at a later date using an ROV. The ROTV crew was assembled from current ROV pilots and Survey Technicians, all of which had experience from ROV systems. It was very helpful for the system integration that they had done this kind of work many times before.
As Henrik Mathiesen said, "The ROTV pilots were fast at picking up flying skills and were able to move onto the actual job after only a few days of training".
System integration
The FOCUS-2 vehicle was integrated into the extensive survey setup onboard Geosund, receiving vessel information and subsea vehicle positioning from the online system. The positioning system consisted of high precision differential GPS, HiPAP subsea positioning and a complete Inertial Navigation System (INS) integrated as payload on the FOCUS-2 vehicle. This allowed the vehicle to receive a very precise position reference, giving a very consistent placement on the planned survey line.
Being a relatively light system, the FOCUS-2 can be safely launched from almost any vessel. Onboard the Geosund, a dedicated crane was mounted in the stern that allowed for good reach for both launch and recovery.
With the FOCUS-2 vehicle as platform, the survey speed can get as high as 8-10 knots still maintaining vehicle stability and the equipped sonar system can be used up to 6 knots without degrading the data quality. This is nearly five times faster than an ROV survey.
A very stable platform
Vehicle movements are kept to a minimum when the FOCUS-2 ROTV is run on both vertical and horizontal autopilot. The vehicle is specified to maintain a stability of +/- 2 metres on both axes but in practise, stability reaches +/- 0.3 metres vertically and +/- 1.5 metres horizontally. This high level of accuracy and stability would be very hard to achieve with a non-steered towfish.
The graphs show the variations in pitch, roll, altitude and horizontal offset. The data clearly demonstrates that the FOCUS-2 vehicle is a very stable platform which will benefit both sidescan and multibeam data quality. Survey speed is also high - even at up to sea state 6, allowing the customer to complete their survey more precisely in less time.
Trond Monsvold, ROTV Supervisor at DOF Subsea: "The FOCUS-2 vehicle handles well and is easy to keep on track using the vertical and horizontal autopilot."