SeaBotix chooses MacArtney MERMAC winch solution for Containerized Delivery System
SeaBotix, San Diego based leading MiniROV manufacturer and supplier, has recently contracted MacArtney to supply an electric MERMAC ROV winch system with Active Heave Compensation (AHC) for use with the innovative SeaBotix CDS Containerized Delivery System.

The SeaBotix Containerized Delivery System
Being the world's first 4000 meter capable, fully self-contained, rapid-response, ROV system - the SeaBotix CDS solution represents a truly innovative approach to deepwater observation and lightduty work.
Traditionally, large and expensive Work Class ROV systems that take days to mobilise have been used for these missions. The CDS is a simple, flexible and cost-effective alternative, offering a single container integrated deepwater observation package, including customisable control room, workspace, winch, Launch and Recovery System (LARS), Tether Management System (TMS), and a versatile 4000 meter rated vectored SeaBotix ROV system (vLBV4000).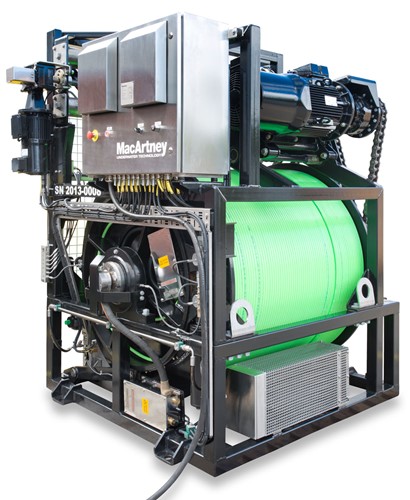 Easy deployment, operation and service under harsh conditions
With its single point lifting capability, the CDS container can be mobilised very quickly on vessels of opportunity. With only a small crew requirement, the CDS system is simple to deploy, operate and service. A host of features are included to comply with the demanding conditions which often form an inseparable part of the demanding offshore subsea inspection, disaster response and deepwater scientific research missions on which SeaBotix ROVs are often deployed. The included vLBV4000 is a stable, powerful, sensor-rich ROVwith the ability to inspect tight areas in complex structures at depth.However, in order to further empower this ROV, the CDS system is bound to feature an integrated purpose developed MacArtney MERMAC Active Heave Compensation (AHC) electrical ROV winch, working to effectively filter out the effects of wave and vessel movement, allowing for deployment operation and retrieval in higher sea states, increasing equipment safety and reducing weather related downtime.


The MacArtney MERMAC winch
On several fronts, MacArtney MERMAC winches represent an ideal ROV handling solution for the SeaBotix CDS system. Like all the other elements that make up the CDS, MERMAC winches are designed to be self-contained, modular and compact, however, yet easy to operate and service.

Besides the intelligent Active Heave Compensation capacity, the MERMAC winch used with the SeaBotix CDS systems incorporates several ingenious features which contributes to a very effective winch solution. These include a space saving right-angle winch configuration with the level wind sheave integrated within the protective frame, central grease points for easy system lubrication, a PC based, user friendly Graphical User Interface (GUI) for control and monitoring of the Tether Management System (TMS) deployment with speed and tension control. Finally, a wireless handheld controller is used for flexible tangle free operation.
According to MacArtney Launch and Recovery Sales Manager, Klaus Brix: "MacArtney is proud to see its MERMAC winch range contribute to the SeaBotix CDS system and is looking forward to continuously expanding the cooperation between MacArtney and SeaBotix."