Proven reliability in tough conditions
Waves are set to become an enormous source of renewable energy – and the larger and more reliable their movement, the greater their potential. Yet tapping into this wave energy requires sturdy systems that can withstand literally everything that the ocean throws at them and be reliable for extended periods with minimal servicing.
Oyster 2 will soon be installed off the Orkney Islands

Just tem, Oyster 2. An upgrade of the proven Oyster system, this version will produce up to 2.4MW to an onshore hydro-electric power plant.
This second generation Oyster uses data collection and transfer systems designed and supplied by underwater technology company, MacArtney (www.macartney.com). Although the system is developed specifically for the Oyster system, it is based on technology that has proven to be resilient to hard conditions and be reliable for long periods without servicing.
Wave energy capture devices are installed where waves exert the most energy. Such heavy sea movement makes for testing conditions for maintenance.
"Maximizing maintenance intervals for the system was a key factor in our design. All our maintainable component systems must be able to function reliably for at least five years between servicing," explained David Kaye, Engineering Manager of Aquamarine Power Ltd.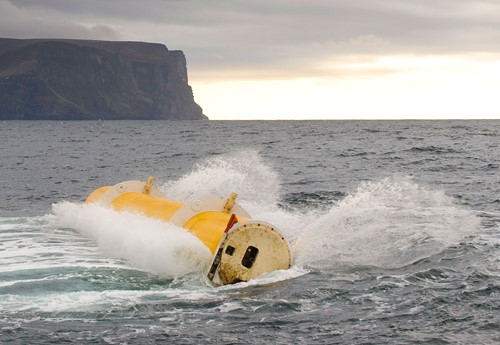 Oyster 1 is designed to be resilient to heavy weather

Constant monitoring is crucial
As with all power generating systems, being able to constantly monitor the system is critical for ensuring safe operation and minimal down time. This is especially true for offshore energy capturing setups, where equipment is often difficult to access and conditions poor. Operators need to be able to see how the equipment is performing and to constantly monitor a wide range of data.
Aquamarine Power will install control and instrumentation systems from MacArtney on their 3 linked wave energy converters, or WECs.
Due for delivery in early 2011, the data acquisition and handling system and the control and instrumentation system will interface with their onshore SCADA system and provide the monitoring station with a range of data from monitors installed on the underwater equipment.
Oyster 2 will soon be installed off the Orkney Islands

High speed multiplexers offshore and onshore ensure rapid data transfer from MacArtney supplied sensors, including proximity, inclinometer, hydrophone and camera data, via a fibre optic link in the control umbilical.
"Our project is reliant upon each element, and with our data and collection system from MacArtney we know that we have a system that is reliable and resilient to even extreme weather conditions," said David Kaye, Engineering Manager of Aquamarine Power Ltd.
MacArtney supply:
Umbilical cable connecting offshore and onshore systems.
Onshore and offshore multiplexing systems
Fibre optic wet-mate connectors and SubConn® connectors
Interface to customer SCADA
Sensor package, including proximity, inclinometer, hydrophone, cameras and lights
Harness cables with connectors
Offshore junction boxes, cabling and communication system architecture
This prestigious contract award was won by MacArtney in late 2010 and deliveries will begin in early 2011.
"This project reflects what can be achieved through professional cooperation from the design stage to final delivery and we are proud to be a part of Aquamarine Power Ltd's wave power development. Our work together further strengthens MacArtney's commitment to the renewable energy sector," explained Sales and Marketing Director for the MacArtney Group, Marco MacArtney.
In addition to the contract, Aquamarine Power Ltd. has also awarded MacArtney Underwater Technology the order for the main communications umbilical system that will connect the wave energy capture systems to the onshore station.