Precision stability for excellent survey results
The precision of sonar survey results depends as much on the stability of the vehicle as it does on the quality of the sonar systems mounted on it.
AUVs are normally used to provide the stability required but recent surveys in the Gulf of Mexico using AST's PROSAS Surveyor based on the MacArtney Focus 2 platform proved that the stability necessary for excellent precision and resolution can also be provided by the MacArtney Focus 2 ROTV.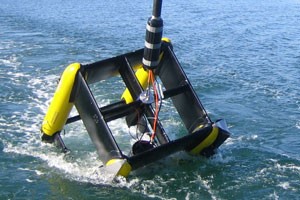 Accuracy is essential
Surveys by sonar systems are excellent methods for tracking underwater pipelines and objects and for locating unwanted objects on the sea floor, such as mines. Such surveys are reliant on precision and high resolution to provide accurate and reliable results.
The unique PROSAS Surveyor is designed for pipeline tracking and underwater searches. It uses an advanced synthetic aperture sonar system to provide accurate information across the entire sweep without the distortion usually associated with objects at the outer rim of the field.
It registers the geographical position of objects, allowing for subsequent surveys to relocate the object and to discover any changes or movements.
It can also find new objects not found in previous sweeps – making it ideal for port or homeland security.
Engineered stability
Pinpointing and identifying objects lying on the sea bed require a combination of quality equipment and a stable platform. Unlike other SAS Sonar systems, the PROSAS Surveyor is based on an ROTV platform rather than an AUV. AST chose the Focus 2 ROTV by MacArtney because of its excellent stability in the water. It provides that positioning precision needed to locate objects just inches in size across the entire sonar sweep and can be programmed to precisely follow the seabed or a pre-set path.
Dr. John Pesaturo, Vice President of AST's Sensor Systems Division, said, "We were very pleased to successfully introduce our PROSAS Surveyor synthetic aperture sonar (SAS) system into the pipeline inspection application using MacArtney's Focus-2 ROTV.
In the past, SAS was thought of as a tool that required the stability that only an AUV could offer. MacArtney has proven that this is no longer the case. The reliability, stability, and ease of use of the dynamically controlled Focus-2 has allowed us to establish our high definition sonar capability as tool of great value to survey companies and their clients."