Oyster 800 unveiled in Scotland
Aquamarine's latest hydro-electric wave energy converter, Oyster 800, was unveiled by Scotland's First Minister, Alex Salmond MSP at a ceremony in Fife in July 2011.
This second Oyster design uses the same principals as the first, Oyster 1, but improvements made based on experience gained with the first model. They have increased power output and made the Oyster 800 easier to install and maintain.
The Oyster 800 will now be transported to the European Marine Energy Centre in Orkney and installed in the next few months. By 2013, 3 Oyster devices will be installed off Orkney and linked to an onshore hydro-electric plant.

The MacArtney Underwater Technology Group has supplied a range of systems and equipment for Aquamarine's Oyster project, including umbilical cable connecting offshore and onshore systems, onshore and offshore multiplexing systems, fibre optic wet mate connectors and SubConn® connectors, system interface to SCADA, sensor packages, harness cables with connectors and offshore junction boxes, cabling and communication system architecture.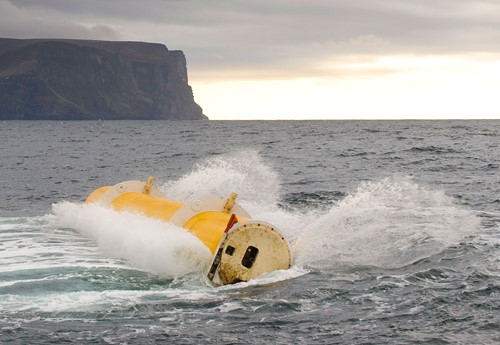 The Oyster 800 is the second generation Oyster wave energy converter.