Offshore oil and gas - Survey assesses CO2 transportation routes
In September, Marin Mätteknik (MMT) began a survey of possible routes for subsea pipelines carrying carbon dioxide to storage sites in the Norwegian offshore sector. The work was expected to take about a month to complete, according to contract manager Olof Nilsson.
The survey was commissioned by Gassco, the state-owned company which operates much of Norway's gas pipeline network, in conjunction with Gassnova SF and the Norwegian Petroleum Directorate.
Deployment of the remotely operated towfish vehicle that MMT has used in recent projects from the stern of the Franklin survey vessel.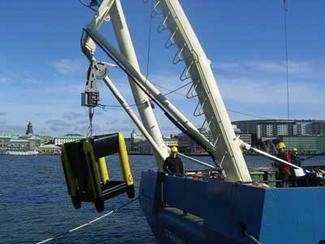 See the complete article at the following link: http://www.offshore-mag.com