New SubConn® 25 pin connector series combines power and signal connection
Demands placed on underwater connectors have increased as underwater technology projects combine increasing numbers of sensors and each sensor requires multiple connections. Often connectors need to combine power and signal – power to supply the sensors and signals for information.
SubConn Inc. has developed a new series of SubConn® connectors designed to carry more power and signal connections than previously available. This new SubConn® range has 25 pins – 3 for power and 22 for signal.
Basing new thinking on proven design
Reliability is a crucial factor and basing new design on existing technology takes full advantage of proven dependability. The new SubConn® series is based on the existing C size series, offering the assured quality and reliability already proven in decades of use offshore. Using the same dimensions as the standard C size connector also makes it compatible with the same locking sleeves, nuts and other accessories.
The series is available as a circular connector, in bulkhead version with ¾" thread and in an attachable version that can be moulded on.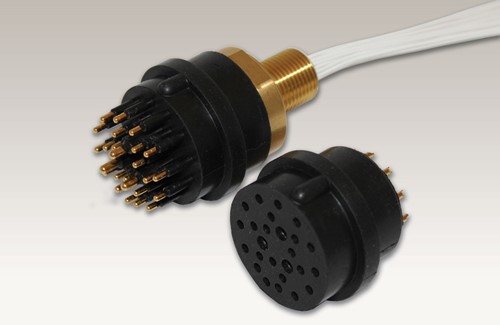 The 3 power pins have a rating of 600 volts, 10 amps per pin, are standard pin size and the 22 signal pins are micro pin size.
Orders already received
The first orders for the new SubConn® 25 pin series have already been received. They will form part of the infrastructure for counting fish on spillways of dams in the USA.