New SubConn® 13 Pin Low Profile Power and Ethernet Connector
The MacArtney Group is pleased to announce the introduction of the new 13 Pin SubConn® Low Profile Power and Ethernet Connector.

Building on the successful SubConn® Ethernet Connector programme - known as the first high speed underwater connector to offer true Ethernet type performance - the new SubConn® Low Profile 13 Pin Power and Ethernet Connector offers a unique set of benefits for operators of underwater systems and equipment.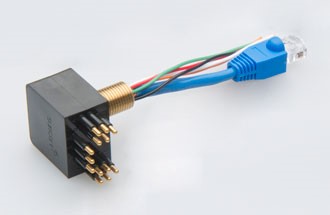 Connectivity and cost reduction for design optimised underwater systems
In a world where underwater industry operators and developers are continuously pushing the boundaries of what remotely operated and autonomous systems can do underwater - technology advancements and design optimisations in materials, control systems, sensors and not least data and power transmission are the order of the day. Such advances allow, for instance, smaller and more compact ROVs to become increasingly capable and effective at tasks that would previously require much larger vehicles.

At the heart of the development of these compact and capable underwater systems is an accelerating demand for evenly compact, yet still effective and reliable connectivity solutions. The new SubConn® 13 Pin Low Profile Power and Ethernet Connector is developed and manufactured specifically to accommodate these increasing demands.

Power, design optimisation and Gigabit Ethernet
Like the existing standard size SubConn® Power and Ethernet Connector, the new 13 Pin Low Profile version provides Gigabit data speed, signal and power transfer for underwater instruments in one high performance connector. Moreover, the connector comes with an appurtenant special designed SubConn® Combined Power and Ethernet Cable.

While allowing ROVs and other underwater systems and equipment to be powered through the same cable and connector as used for data transfer, the entire solution works to make data and power transmissions faster and less expensive. When one adds the design optimisation capacity provided by the low profile layout of the new SubConn® connector - operators will gain the opportunity assemble more streamlined and effective underwater systems, with sensors, sonar heads and other types of equipment producing less drag.

Experience and extensive testing to ensure performance and reliability
For more than 35 years, the MacArtney Group has been supplying SubConn® - the world's leading range of underwater pluggable connectors - to underwater technology operators across the globe. Drawing on this extensive experience, the new SubConn® Low Profile Power and Ethernet Connector is comprehensively tested at MacArtney's in-house ISO 9001 certified test facilities to run Gigabit Ethernet at water depths up to 6000 metres.

In stock worldwide
The new SubConn® 13 Pin Low Profile Power and Ethernet Connector, along with the appurtenant cable can be ordered from stock through several worldwide MacArtney locations.

Early orders
From day one, the new connector has managed to raise attention among operators of underwater systems and equipment. Several connectors have already been ordered for use on state-of-the-art subsea applications within the defence sector.