New multiplexer handles multiple channels on existing copper cables
Handling online information form a large number of underwater instruments often requires fibre optic multiplexers and cables. Using a multiplexer that works on copper cables can be an economic and practical alternative to fibre optic systems, especially when adding multiplexer to existing equipment.
MacArtney has developed a new electrical multiplexer, the NEXUS MK E, that handles online communication using existing copper cables.
Uses existing system cables
The large bandwidths of fibre optic cables and multiplexers are excellent at transferring vast amounts of online data from underwater equipment to topside. They can, however, be out of the economic reach of some projects or require extensive changes to equipment and handling systems.
MacArtney has developed a new type of multiplexer. This new electrical multiplexer, the NEXUS MK E, transfers online data on existing coax type, side scan sonar and CTD cables as well as twisted pair and 3 conductor umbilicals.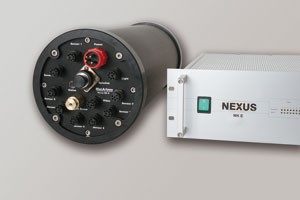 Controls multiple communications
The NEXUS MK E can handle an array of video and data information using existing copper cables and winch equipment.
It is designed for use in applications where there is a need to perform online communication with up to 7 underwater sensors and/or 1 live video channel.
The system communicates with power and data on the same conductors along up to 10,000 metres of coax cable or 3,000 metres on twisted pair cable. Each sensor channel can be individually controlled through the software package.
It is ideal for oceanography systems, ROV upgrades, towed vehicles, drop camera systems and towed camera systems.
Portable and upgradable
The NEXUS MK E is designed to the same high standards as MacArtney's fibre optic NEXUS multiplexers and is prepared with a path so that it can be upgraded with MacArtney's fibre optic based telemetry system at a later date. It can also be delivered as a portable multiplexer that can work with both fibre optic and copper cable systems.
The MKE multiplexer is compact and comes in 3 standard versions for 1,000, 3,000 or 6,000m depth applications