MacArtney to premiere multiple new solutions at OI 2014
The MacArtney Group will be making good use of the 2014 edition of the Oceanology International exhibition to premiere and showcase a number of new underwater technology products and solutions aimed at the ocean science, oil and gas, dredging and diving industries.
These additions will include a new SubConn® coax connector series for carrying HD signal, a number of innovative additions to the LUXUS range of cameras and lights, the NEXUS MK VI HD multiplexer and last but not least, a brand new remotely operated towed vehicle (ROTV) based data acquisition solution named FLEXUS.
The FLEXUS is empowered by a state-of-the-art MacArtney NEXUS MK-E multiplexer which can easily be demounted for use onboard other sensor platforms and systems such as CTDs, benthic tow sledges and drop camera systems. This high degree of cross-application flexibility makes the NEXUS enabled FLEXUS a highly competitive choice as an all round and cost effective monitoring and data acquisition tool.
Overview of MacArtney solutions introduced at OI 2014:
- New FLEXUS remotely operated towed vehicle (ROTV)
- New NEXUS MK VI HD multiplexer
- New LUXUS cameras, lights and accessories
- New SubConn coax connector series
OI 2014
Held in London at the ExCeL Exhibition and Convention Centre, Oceanology International (OI) is the world's largest exhibition for marine science and technology and is widely recognised as the global forum where industry, academia and government share knowledge and connect with the marine technology and ocean science community. "The event will be attended by the bulk of key stakeholders, operators and decision makers within all marine industries and this makes OI the perfect occasion for fielding our new underwater technology solutions", says MacArtney Group Sales and Marketing Director, Marco MacArtney.
Visit MacArtney at stand D200
Beyond the new launches, MacArtney will feature a broad range of established and recently introduced systems and products on its newly designed exhibition stand, number D200. These will include a FOCUS-2 ROTV, a wide selection of SubConn, OptoLink and MacAPI connectors, Sensorbot technology, a heavy duty offshore Medium Voltage Inline Termination and a fresh-off-the-assembly-line original MacArtney CORMAC stainless steel winch.
Finally, a dedicated team of MacArtney sales professionals, technicians and decision makers from all across the global MacArtney organisation will be in place and ready to welcome stand visitors and answer any thinkable question about MacArtney systems, products and underwater technology solutions.
For more information about MacArtney at Oceanology International 2014, please visit:
http://macartney.com/exhibitions/oceanology-international-exhibitor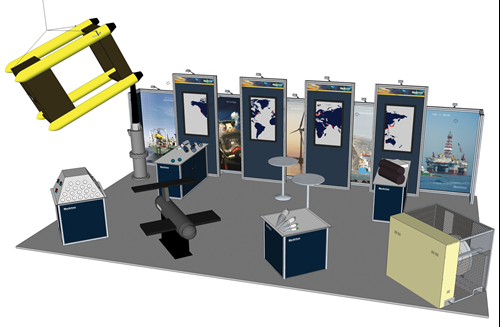 Outline of the MacArtney stand at OI 2014