MacArtney supplies swivel solution for next generation Scotrenewables tidal turbine
MacArtney has been selected to supply a custom designed Moog Focal swivel solution for a next generation tidal turbine developed by Orkney based tidal energy pioneer, Scotrenewables Tidal Power (SRTP).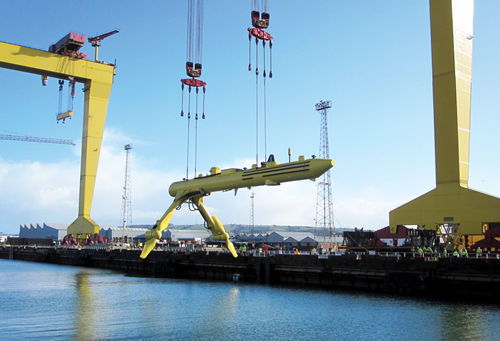 The new SR2000 will be based on the successful SR250 prototype turbine (picture) featuring two horizontal axis rotors attached on retractable arms (courtesy of Scotrenewables)
Scotrenewables Tidal Power
Founded in 2002, SRTP has become a leading tidal turbine developer holding an extensive track record of innovation and performance. SRTP is primarily known for developing the innovative floating tidal energy converter known as the Scotrenewables Tidal Turbine (SRTT).

Developing the next generation of tidal turbines
The SRTT is an innovative floating hydrokinetic tidal stream system designed for ease of installation, operations and maintenance, coupled with efficiency, robustness and survivability in harsh offshore environments. Nine different scale models and a 250 kW prototype known as the SR250, have been tested extensively over the past 10 years - both offshore and in a laboratory environment.

Building on the success of SR250, SRTP has designed the SR2000, a larger commercial scale turbine more suited for tidal array deployment. This next generation turbine will reach a rated power of 2 MW, making it one of the most powerful tidal turbines in the world to date.

Custom swivel takes tidal megawatts ashore
Like with the SR250, the main structure of the SR2000 comprises a floating cylindrical tube to which dual horizontal axis rotors are attached on retractable arms. The rotors extract the kinetic energy of the tidal flow, which is converted to electricity though a power take-off system for export to shore.

Realising the importance of the mooring system as a critical underpinning technology for successful floating marine energy converters, SRTP has developed an innovative and unique single point catenary mooring system featuring a patented mooring turret. At the heart of this turret and comprising a key element in the overall SR2000 system, sits a custom designed Moog Focal swivel supplied by MacArtney. The swivel allows the SR2000 to self-orientate in the tidal flow, while signal transfer and electricity flow to the onshore grid, is handled using a single marine export cable.

Going full scale
Once constructed, the SR2000 will undergo an intensive four-year testing programme at the European Marine Energy Centre (EMEC). In parallel, SRTP are developing a 10 MW commercial demonstrator array project to be installed in UK waters in the coming years. Due to the floating design, SRTP expect the technology to deliver energy at lower cost than competing technologies, with a target of being competitive with offshore wind in first commercial array projects.

"Marine renewable energy is a key strategic focus of the MacArtney Group and we are proud to contribute to the sweeping development of technology taking place at the EMEC in these years" says MacArtney Renewable Energy Sales Manager, Jens Henrik Gadeberg.