MacArtney supplies autonomously operating winches for naval application on USVs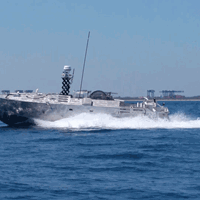 Common Unmanned Surface Vehicle (CUSV™) to be provided with purpose-built winches designed and tested according to the most demanding MIL standards

US-based aerospace and defence development and manufacture company Textron Systems Unmanned Systems, a Textron, Inc. business, has taken delivery of winch systems from MacArtney.
The scope in question comprises design, manufacture, assembly, test and delivery of autonomous launch and recovery systems custom-engineered to adapt to specific customer requirements. The winches are designed to comply with the MIL standard 901D for shock and vibration. Emphasis has been put on tailoring the design and features to the conditions that they will be experiencing throughout their service lives.
Special engineering and design
The winches are designed and engineered for optimal durability. They feature a modular and compact design allowing for flexible system installation on USVs. The ultimate purpose of the vehicles is the autonomous use of sweeping, localisation and neutralisation of mines and other explosive devices without human interaction.
The materials in the state-of-the-art winches include aluminium and special alloys which make them lightweight and corrosion resistant, which in terms of pull force/winch weight ratio will allow for added fuel capacity of the USVs.
"Delivering outstanding system performance by combining technology and experience, MacArtney considers the outcome of this customisable solution excellent as it is applicable for many purposes. The autonomous aspect and self-diagnostics of the solution
are very important factors and a specific material request made by our customer", says MacArtney Inc. President Lars F. Hansen.
In addition to the mine countermeasure application, the USVs may target a wide range of commercial applications, too.
Empowering underwater technology since 1978, MacArtney Underwater Technology has been providing instrumentation platforms and underwater telemetry systems to the ocean science, naval and defence industries for several years. 


CUSV is a trademark of AAI Corporation