MacArtney Operates Water Quality Measurements at the River Eider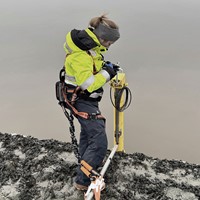 As part of the "Zukunft Eider" project, the Waterways Authority Elbe-Nordsee has asked MacArtney Germany GmbH to operate 4 water quality probes at the River Eider in Northern Germany.
The EXO III probes by US manufacturer YSI have been mounted at 4 stations along the outer- and tidal parts of the River Eider and have been collecting data on water temperature, conductivity, dissolved oxygen concentration and turbidity since January 2023.
Hydrographic data
The measurements will continue to take place for a 12 months period, creating a high-resolution data set (measurements intervals are every 5 minutes) of these parameters at the River Eider.
The data will help set up and calibrate models for river basin and hydro-engineering system analysis, as well as
a forecast model for the River Eider.


Changes in the water systems
The project "Zukunft Eider" deals with the changes in the water systems of the River Eider and River Treene, e.g. with regards to sediment input at the tidal areas of the River Eider, that have been observed over several decades.

These changes have induced a decrease in vertical profiles and natural slopes, resulting in strong effects on drainage and flood protection and the safety and smoothness of ships passing along the River Eider.

MacArtney is operating the 4 water quality probes along the different sites of the River Eider, servicing and calibrating the sensors at regular intervals at our company's calibration facility.


Small project with a big impact
MacArtney's qualified staff with a background in Oceanography, Physical Geography, and Engineering manages these service operations in close consultation with Hydrologists from the Waterways Authority.
Dr Verena Dauben is excited to be part of "Zukunft Eider":


"We are happy to be involved in the water quality measurements project. We do all the installation, service and calibration parts with YSI EXO probes. This project may be on a smaller scale; however, its value lies in the contribution of our expertise and services towards forecasting the potential impact of alterations in the river's water systems."


MacArtney Germany is committed to fully supporting Germany's challenging underwater technology markets. Operating sales and consultancy offices for marine and underwater technology based in Kiel and Bremen, MacArtney Germany focuses on sales and service of oceanographic, geophysical and hydrographic measuring instruments and systems.