MacArtney makes a splash simulating a search, locate and retrieve action
Retrieving bodies and related items from the sea floor is important for those left behind after human tragedies at sea and essential for investigations. Locating and retrieving valuable evidence can be critical for inquest or trial, yet finding objects underwater is not always an easy task.
At the Ocean Business exhibition in Southampton, UK, sonar experts from Kongsberg and MacArtney demonstrated how synchronized viewing of the same area with two sets of sonar eyes optimised sonar aided search and recovery.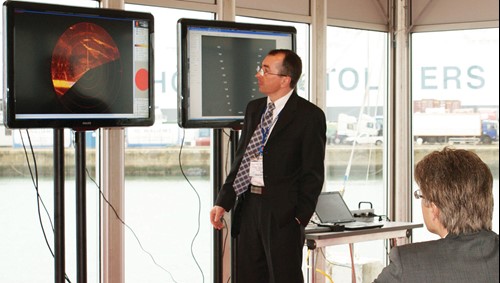 Sonar experts demonstrated how two sonar systems can work together
Detailed search and locate sweeping
Search areas can stretch over wide distances and pinpointing the exact location requires both large scale sweeping and fine detail searching. Poor visibility can also be a hindrance when searching with camera or by sight as turbid waters dramatically reduces the viewable field.
Sonar systems are used to survey target areas and during the demonstration in Southampton, a Kongsberg rotating sonar head was placed on a tripod and lowered into the harbour basin. 360° sweeps soon identified key references, including the harbour wall, vessels moored, entering and leaving the harbour and an unidentified object – our simulated body.
Product Group Manager, Bogdan Constantinescu from Kongsberg Mesotech Ltd. demonstrated how readings on the screen relayed detailed information about the size and shape of the object and how the object can be geographically pinpointed for further identification.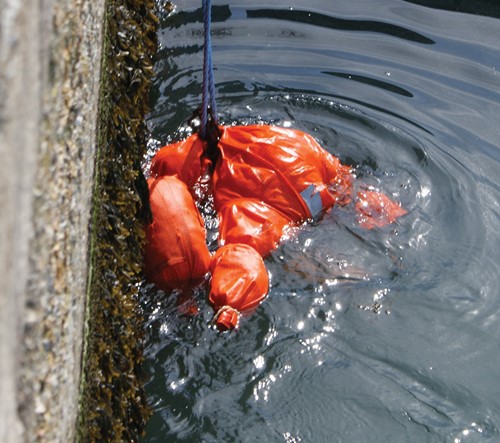 Splash Gordon is located and retrieval begins
Precise identification with near-video resolution
Once a suspected target has been located, it needs to be identified. Using divers with lights and cameras to identify a target can be problematic in deep or turbid waters. Poor visibility can significantly affect the identification process by video or diver search. In some areas, divers are barely able to see further than their arm's length.
Mike Sawkins from MacArtney demonstrated the advantage of using the DIDSON sonar system for close up identification in turbid waters. Once identified by the fixed, rotating sonar head, the DIDSON moved in to gain more detailed information about the subject.
Detailed, near-video quality sonar imaging revealed the body in more detail – and when mounted on an ROV or in the diver held version, even closer study reveals even greater detail. Such detail is also important for identifying potential related evidence on the seafloor.
From search to retrieval
Searching and retrieving objects from underwater crime or tragedy scenes can be made more effective by combining the strengths of two different types of sonar systems. The demonstration of the two sonar systems side-by-side reflected how combining the two types facilitate the search, locate and identification process, making retrieving vital evidence from under the water precise and efficient.