MacArtney is a perfect fit for exciting new office location at the COVE in Canada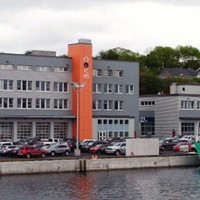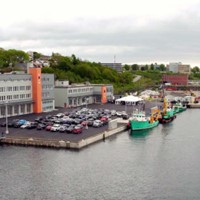 MacArtney Canada Ltd. has recently moved into new offices at The COVE, a Centre for Ocean Ventures & Entrepreneurship in Dartmouth, Nova Scotia - the east coast hub of maritime industries.
MacArtney Canada has found its new home at the COVE in Dartmouth, a collaborative facility for applied innovation in the ocean sector. After outgrowing their previous office space, MacArtney Canada, part of the worldwide MacArtney Group, have found a perfect fit at the COVE providing the MacArtney Canada team with the opportunity to expand, innovate and develop.
Currently comprising of a team of sales, engineering, shipping and logistics staff MacArtney Canada will be making full use of their new facilities on the water's edge in the old Dartmouth coastguard facility. Now with the ability to install full LARS - launch and recovery systems - on their doorstep, MacArtney Canada will be putting the new workshop facilities to good use and increasing SubConn® connector stock levels as well as increasing cable inventory and cable moulding options. With the addition of a shipping and logistics office, this new MacArtney Canada office, will be able to offer the full line of MacArtney products and solutions.
MacArtney Canada is excited to be sharing this collaborative space with the Ocean Science community and customers alike. MacArtney Canada's neighbours will include prior customers Kraken Robotics, Turbulent Research and Dominion Diving. Speaking about this exciting new collaborative space MacArtney Canada Ltd. General Manager Thomas J. Knox stated,
"We have seen similar initiatives work with great success, such as the Woods Hole Oceanographic Institute (WHOI) in New England, and the Monterey Bay Aquarium Research Institute in California. The opportunity to collaborate more easily with clients and vendors will hopefully result in ocean technology developments of the highest quality continuing to come out of Nova Scotia.
MacArtney will now be able to offer 'on deck delivery' of larger Launch and Recovery equipment to vessels that can now dock at the COVE. Our new loading bay facility also means that clients can look forward to an increase in SubConn® inventory levels here in Canada."
Established in 2016 through the acquisition of the fibre optic communications company EMO Marine Technologies MacArtney Canada is now a regional sales office for MacArtney Inc. MacArtney Canada has become the Canadian sales hub for SubConn® underwater cables and connectors, in addition to offering all MacArtney products and system-level solutions.
Positioned across the globe with 20 Group operations, the MacArtney Group has a distributor network of 24 companies. Offering global access to local support.
Read more about the COVE at: www.coveocean.com