MacArtney expands into new premises in Aberdeen, UK
MacArtney UK, part of the global MacArtney Underwater Technology Group, has just completed a move into new, purpose-built premises in Aberdeen. The 3000m2 building combines office and workshop space with a large warehouse and yard and provides MacArtney UK with room to expand and introduce new products and services.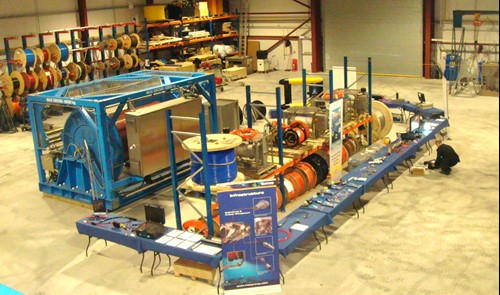 Three times more space
Rapidly increasing activity and new areas of business have prompted the UK operation of the MacArtney Underwater Technology Group to move into new, purpose-built premises in Aberdeen. The new facility is approximately three times the size of the previous building, and at 3000m2 will house all business activities, including workshops, test facilities, an extensive warehouse and spacious administration areas.
The building was officially opened by Winnie MacArtney, co-founder and owner of MacArtney, on Friday the 3rd of April at an open house event with customers, suppliers and employees. MacArtney has had a presence in the UK since 1992 and opened as MacArtney UK in Aberdeen in 1999. In the 10 years that MacArtney has been located in Aberdeen turnover has increased from £1.5 million to over £16 million and staff numbers have increased from 6 to 36.
Customers will benefit from the change
"Our larger facility and extended services reflect our increasing activity and the long term commitment of the MacArtney Group to the UK market," explained Managing Director of MacArtney UK, David Buchan. "We now have more room to carry more stock, which will have a positive effect on delivery times, and space to expand all areas of our business and services. The introduction of our new 600 Bar pressure test facility is eagerly awaited by a number of our customers."
Products and services offered at MacArtney UK
Cable moulding and encapsulation workshop
Slip ring service and repair workshop
CNC machining workshop
Electrical and optical connectors
Cables and terminations
Winches and handling systems
Electrical, optical and fluid slip rings
Underwater cameras and lights
Multiplexer and control systems
Engineering and services
Pressure testing
ROV and ROTV systems