MacArtney completes coast-to-coast United States coverage
The MacArtney Underwater Technology Group is pleased to announce the opening of yet another new sales office in the United States.
As of October 2012 MacArtney West Coast is open for business. The new office is located in San Diego, and will serve the underwater technology requirements of major OEM, offshore, ocean science and defence stakeholders within the California area.
MacArtney West Coast is the fourth branch of the MacArtney Group's American subsidiary (MacArtney Inc.), and along with the existing North East (Boston), Pacific Northwest (Victoria) and Gulf of Mexico (Houston/HQ) locations, the new office completes MacArtney's coast-to-coast coverage of the US underwater technology market.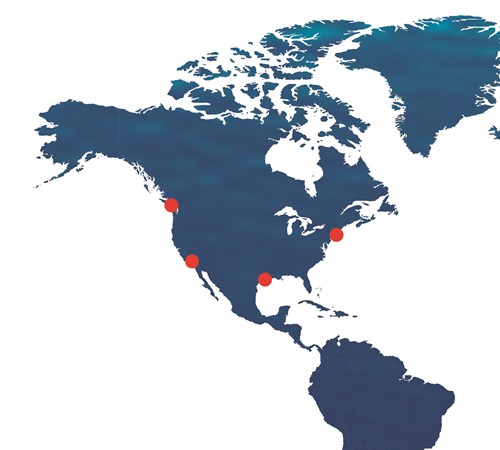 Local access to global knowledge
MacArtney West Coast provides an increased sales base, offering access to larger stock and capacity, resulting in even better service and faster delivery.
Specifically, MacArtney West Coast will have access to a large stock of SubConn® connectors, available for immediate delivery.
Moreover, as a member of the MacArtney Group, the new office offers local access to global knowledge and know-how within underwater technology, with direct access to all MacArtney products, services and advice, to suit all underwater technology requirements - from individual connectors, to complete system solutions. Finally, MacArtney's new West Coast operations can leverage the extensive workshop and service facilities located in Houston.
Close is more: Local service and support as a critical element of strategy
To MacArtney, being close to the customer is absolutely paramount. According to the President of MacArtney Inc. Lars F. Hansen, being able to provide effective local service and support to present and potential clients, is the overarching incentive for placing MacArtney offices in every costal corner of the United States.
This way, the MacArtney Group is continuing to pursue its overall strategic aim, of continuously expanding in order to enhance local presence on the global underwater technology market.
Address and contact information
Bluffs Building, 16870
West Bernardo Drive (suite 400)
San Diego, CA 92127, USA
MacArtney West Coast will be headed by Jeff Conger (system sales manager) and Beto Campos (item sales manager). Both hold extensive experience within underwater technology.