MacArtney bolsters North American system sales focus
Fuelled by continuously increasing demand for complete integrated underwater system solutions, MacArtney has opted to significantly bolster its North American system sales focus.Spearheaded by the hiring of experienced sales and business development professional, Shannon Lewis, as System Sales Manager, and appointment of long-standing MacArtney ocean science expert, Andrew Ziegwied, as Vice President of Ocean Science and System Sales, MacArtney is well-equipped to handle even more projects and complex system challenges in the future.

ROV winches and business development
As part of the Gulf of Mexico (GOM) operations in Houston, TX, Shannon Lewis is set to leverage her 16 year track record of team leadership, sales and business development to take MacArtney system sales to the next level. Recently, MacArtney has seen significant growth in sales of its complete systems, hereunder especially, winch and handling systems for ROV, subsea and scientific applications.
Drawing on the experience, skills and extensive network forged during her time as Business Development Manager at Forum Energy Technologies and Business Development Executive at Deep Down, Shannon is dedicated to bringing even more growth to this and other key MacArtney system markets.
"As a former MacArtney customer, I am profoundly honored to join the team, the innovative technology, the vision and to be part of it all", says Shannon and continues: "I've seen a lot of companies - vendors, startups and partners - MacArtney is truly one of a kind and I am both blessed and excited to have the opportunity to be a part of the company's continued success and leadership, as we continue to grow and improve at a shockingly fast pace."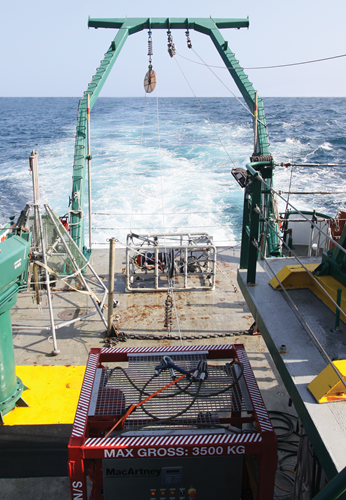 A MacArtney system, including oceanographic winch, custom made multiplexer, cables and connectors, is used to empower the FSU MILET toolsled onboard the R/V Weatherbird II
Ocean science growth
Another MacArtney market characterised by solid growth is related to the design, integration and delivery of system solutions for ocean science institutes, research vessels and general oceanographic applications. In response to this development, MacArtney has expanded the role of Andrew Ziegwied, who is set to support all North American sales offices and coordinate the team's efforts in the design of innovative, turnkey system solutions tailored to specific application requirements. Building on nearly 7 years as System Sales Manager, Andrew holds extensive experience with underwater technology and integrated systems. According to MacArtney Inc. President, Lars Hansen, Andrew will play a key role in implementing MacArtney's vision and overall systems focus in all markets of its North American operations.
Andrew, operating out of Portland, OR, will direct system sales and post sale customer support for existing clients in the ocean science segment and play an active role in developing the ocean science market in North America. "With my expanded role, I can help establish strategic business partnerships with vendors and improve collaborations across the growing organisation in support of systems sales", says Andrew and continues: "There is much work to be done here and many exciting opportunities to explore."
Beyond his experience with MacArtney, Andrew is a University of Washington School of Oceanography graduate. His background includes field work and project management with Evans-Hamilton, Inc. and application engineering with CTD manufacturer Sea-Bird Electronics, Inc.