MacArtney announces succession at the top for their US operations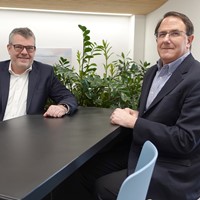 MacArtney, a world leader in underwater technology, announces David Marchetti as successor to retiring US operations President Lars Hansen. Joining the company in January 2023, David commences his new paramount role, carrying on the growth journey of MacArtney Inc.
The MacArtney Group is pleased to introduce David Marchetti as the new President for its US operations covering all of North and South America. A strong profile with the right background and experience, solid leadership, and the credentials to attain the growth goal in the Americas.

Houston-based David Marchetti comes from a Senior Director position at Ocean Power Technologies, where he headed the company's regional (Americas) business development activities. He previously held leading positions with Hawboldt Industries, Forum Energy Technologies, FMC Technologies Schilling Robotics, and GE Vetco Gray.
His over 20 years of experience include management, aftermarket/customer service, engineering, manufacturing, project management, and business development.


Strategic match
MacArtney has high expectations for the new US President. Based on his business acumen, he will be the focal point in the continued growth of the largest MacArtney entity outside headquarters in Denmark. He is seen as a vital strategic sparring partner contributing to the company's global development.
Happy about the appointment, Group CEO Niels Peter Christiansen says:
"In David, we have found a successor with all the right credentials, network and ability to expand the business, supporting the strategy and growth goal for the Americas. Furthermore, his engaging leadership style and personality fit the MacArtney culture, both with regards to our customer-centric approach and our focus on the most valuable asset; our staff!"


Looking forward to exploring the growth potential
David Marchetti is well-versed in the underwater market and technology sectors, with demonstrated expertise in oil & gas subsea production systems, ROV/AUV systems, and wave energy.
He is very familiar with MacArtney's business, complex solutions, and the industry's opportunities and challenges. He is excited to join his new colleagues, continue the growth journey, and explore the market potential of the Americas and says:
"MacArtney has a long-standing reputation of providing reliable solutions and has set the bar as the technology leader in multiple market segments. I am excited to lead the great MacArtney Inc. team and further advance the
growth that the organisation has experienced while continuing the tradition of delivering outstanding
customer service."
 
Will be heading up MacArtney's US operations
MacArtney Inc. was founded in Houston, Texas, in 1998. Over the past 20 years, it extended its offerings to include the complete MacArtney range of underwater connectivity, technology products and solutions, and high-level workshop facilities.

The Americas operations employ a staff of about 40 members and manage several operations in strategic locations across the United States in the Northeast, Pacific Northwest and West Coast, Canada and Latin America.
Lars Hansen will partake in the transition, ensuring a smooth handover, with David joining MacArtney in January and taking the helm in April.