MacArtney and University of Copenhagen team up with Sequoia for PiE 2014
A slice of PiE for the talent of tomorrow
In October 2014, Sequoia Scientific of Seattle, USA, MacArtney and University of Copenhagen will team up to organise the fourth edition of Particles in Europe (PiE) - a bi-annual conference focusing on particles in the aquatic environment.
Centred around the informal sharing of academic knowledge as well as hands on experience and ideas, PiE appeals to researchers, students, monitoring agencies, environmental and government employees alike. Anyone interested or actively engaged in modelling or managing particles should attend the conference, which is particularly renowned for reaching out to the marine science talent of tomorrow.
The conference
The PiE 2014 conference will take place in Esbjerg - the offshore capital of Denmark. Besides being the hometown of MacArtney, Esbjerg is known for its status as a 'World Energy City' and for being the gateway to the Wadden Sea National Park. Guided by experts from the University of Copenhagen, PiE 2014 attendees will experience a unique guided tour through the National Park which comprises one of the world's most valuable and fascinating tidal areas featuring vast biodiversity and aquatic phenomena. In extension of the Wadden Sea guided tour, the conference will also embrace a dinner visit to the Fisheries and Maritime Museum of Esbjerg.
The majority of the PiE 2014 conference will take place at the Esbjerg Conference Hotel, where a diverse range of speakers will highlight the latest development within the realm of particle monitoring, management and technology. The organisers expect that the conference will embrace approximately 30 presentations over two days. For the curious, the conference will also offer the opportunity to learn more about Sequoia instruments and pay a visit to MacArtney, where a guided tour will offer an insight into the world of underwater technology.
A match made underwater
The partnership between Sequoia and MacArtney to host the PiE 2014 conference is far from a coincidence. While Sequoia, in its role as an internationally renowned manufacturer of portable, field, and submersible laser particle sizers focuses on delivering state-of-the-art instruments to ocean science operators, MacArtney holds an extensive track record with regards to integrating oceanographic systems and developing underwater data infrastructure products, instrument deployment solutions and sensor platform technologies.
More information
For information on the conference programme, registration, abstract submission and more, please visit the Sequoia PiE 2014 website at www.sequoiasci.com/about/pie/
You can also read more about PiE 2014 under our section 'exhibitions'.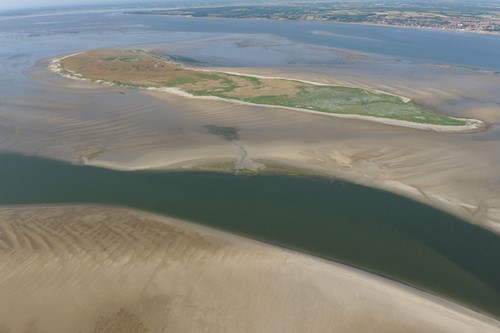 The Isle of Langli - Wadden Sea National Park (one can catch a glimpse of MacArtney in the background) Photo courtesy of: VisitWestDenmark