MacArtney adds pressure testing facility in Benelux
MacArtney Benelux is pleased to announce the addition of a modern and fully equipped pressure tank facility to the company's workshop in Rotterdam, NL.
Using a fresh water pressure tank with a height of 1300 mm, an internal diameter of 850 mm and a maximum pressure capacity of 100 bars, the testing facility is able to put connectors, cables, junction boxes and other underwater technology equipment to the test.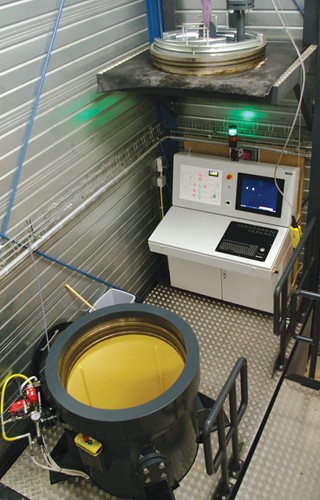 Computer controlled real-time measurement

For optimal accuracy and computer generated profile programming, the test facilities at MacArtney Benelux are able to provide fully computer controlled operation. Electrical and optical measurements are undertaken in real-time, and equipment inside the tank can be subjected to live camera monitoring. Moreover, penetrators for connectors are incorporated into the lid of the tank.

In extension of the test facility, an overhead crane with a capacity of 1500 kg ensures that even very heavy or unwieldy equipment can easily be pressure tested.

The facility can be rented at an hourly or daily basis, with all testing being performed by fully qualified and certified MacArtney personnel.
MacArtney pressure testing facilities

The new facility at MacArtney Benelux marks the fourth MacArtney Underwater Technology Group location to offer professional pressure testing services to local and global customers. Comparable facilities are present at MacArtney Norway, UK and at the group Headquarters in Denmark.