Geomarine set to represent MacArtney in Italy and Mozambique
The MacArtney Group is delighted to announce the signing of an official representative agreement with Geomarine - an Italian geophysical and geotechnical marine survey service provider. The two companies will team up to offer state-of-the-art underwater technology solutions and services in primarily Italy and Mozambique.
Geomarine
Based in Senigallia on the coast of the Adriatic Sea, Geomarine provides services, solutions and advice on marine and land applications, in particular any geophysical, geotechnical and environmental issues linked to inshore and offshore activities. Based on an assessment of client needs and purposes, the company provides thorough technological support using top-of-the-range instruments. Geomarine employs a team of 15 highly-qualified specialists keen to meet client requirements and ensure outstanding technical, scientific and technological support.
Geomarine is part of the DIMMS Group and beyond providing services and consultancy to clients in Italy - the company operates out of the local DIMMS location in Matola (Mozambique), to supply offshore survey services and solutions to the oil and gas industry clients and marine operators within the region.
Complete survey packages to boost the Geomarine portfolio
In its role as MacArtney representative, Geomarine will have access to the entire range of MacArtney products, systems and integrated solutions. As a dedicated provider of underwater technology, MacArtney holds decades of experience with subsea survey solutions. Beyond the renowned FOCUS-2 high speed towed survey system, MacArtney NEXUS multiplexers and MacArtney connectivity systems also hold extensive pedigree when it comes to survey applications. "At Geomarine, we see the partnership with MacArtney as a definite strengthening of our service and sales solutions portfolio that also supports the requirement for fast system delivery set by our Italian clients." Says Vincenzo Mauro, Geomarine Commercial Director, and continues: "For instance, with MacArtney connectors and cables readily available, we can really boost the integration of full-scale systems for our clients. Also we believe that many local sonar operators might benefit from MacArtney winch and handling systems". DIMMS Group President, Massimo De lasi, adds that: "This agreement is real step forward of our international DIMMS Group expansion strategy, especially in the East Africa Region".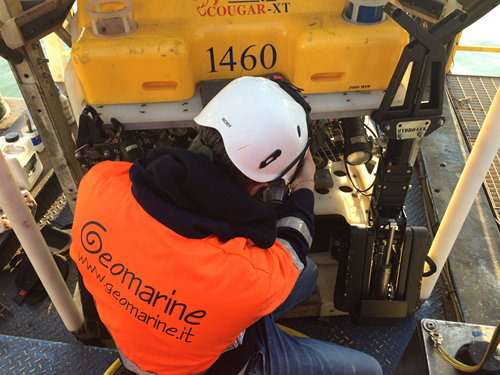 Geomarine technician working on an ROV
Globally local underwater solutions
Continuously bolstering its global outreach and customer support through strategic local presence in key markets is a long-standing cornerstone of MacArtney strategy. With locations in both Italy and Mozambique, along with an extensive network of local and regional contacts, industries and clients in e.g. Northern Africa and Southern Europe, the partnership with Geomarine is bound to be of great value to MacArtney. "Geomarine provides cutting-edge service and consultancy with reference to hydrography, dredging, civil engineering, oil and gas industry clients alike. Moreover, they hold a great reputation and is very well connected to regional survey operators and naval procurement stakeholders in Rome and La Spezia" says MacArtney Sales and Marketing Director, Marco MacArtney. "We are delighted to work with Geomarine and remain confident, that the partnership will aid to open even more doors for our company, products, systems and solutions", Marco MacArtney concludes.

Geomarine performs positioning service and visual inspections by ROV aboard the Med Dieci