Advanced MacArtney TRIAXUS ROTV for CSIRO
MacArtney has supplied a TRIAXUS remotely operated towed underwater vehicle to the Commonwealth Scientific and Industrial Research Organisation (CSIRO), Australia's national science agency, and one of the largest and most diverse agencies in the world.

The TRIAXUS underwater vehicle will be utilised on Australia's Marine National Facility research vessel, the Investigator.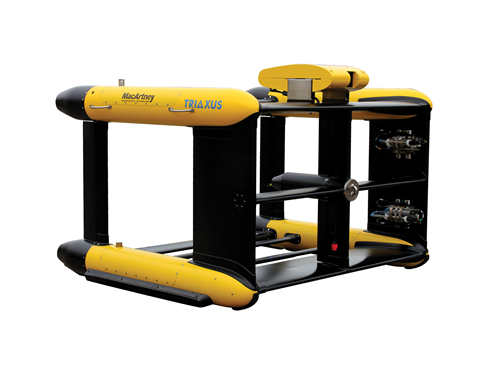 The TRIAXUS acquired by CSIRO is of the extended 'E' type featuring an even higher payload capacity
This instrument will be used in a diverse range of oceanographic research activities. Currently fitted with a CTD, laser optical plankton counter, transmissometer, fluorescence and PAR sensors, the TRIAXUS is well suited to many aspects of plankton research, however, utilising the CTD the TRIAXUS is also intended to be used in investigations of frontal features, air sea interactions and much more.

The R/V Investigator
Currently undergoing the final stages of construction, the highly advanced CSIRO research vessel, Investigator, is bound to provide a significant contribution to Australia's ocean research capacity and deliver increased opportunity for participation in research programmes at a global scale.

Beyond the MacArtney TRIAXUS system, the Investigator will feature a broad range of scientific systems and equipment to support scientists in oceanography, climatology, fisheries, marine ecosystem, environmental and geoscientific research.
According to Ocean Science Sales Manager, Hans Jørgen Hansen: "MacArtney is delighted to see its TRIAXUS system contribute to the capacity of such an illustrious vessel and is keen to continue its close and long-standing cooperation with CSIRO."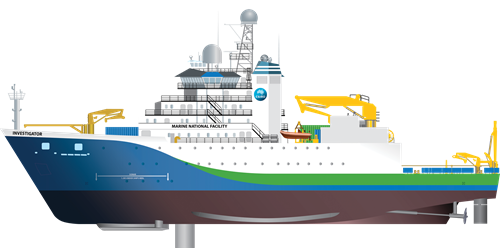 The CSIRO TRIAXUS will be deployed off the new research vessel R/V Investigator (courtesy of CSIRO)