A new take on pre-function testing underwater umbilicals
Subsea 7, leading subsea engineering and construction company, and their customer, are delighted with their new self-contained underwater umbilical testing system. A new take on pre-function testing, the new self-contained system envisaged by Subsea 7 and engineered by MacArtney, takes testing to the sea bed, making it faster and more convenient to test in situ.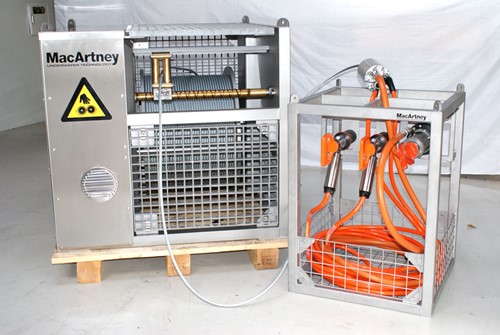 Instead of bringing the cable up, the new system is lowered down to the cable on the sea floor.
Taking testing below water
At depths of around 380 metres, newly installed umbilicals in the Vega field in the Norwegian sector of the North Sea can be a challenge to test. Traditionally such testing requires one end of the cable to be attached to a ship on the surface, where insulation and conductor resistance and time domain reflectometry can be measured.
Subsea 7, leading subsea engineering and construction company, have taken a new approach to in situ testing and together with underwater technology company, MacArtney Norway, designed an entirely new way of measuring cable function.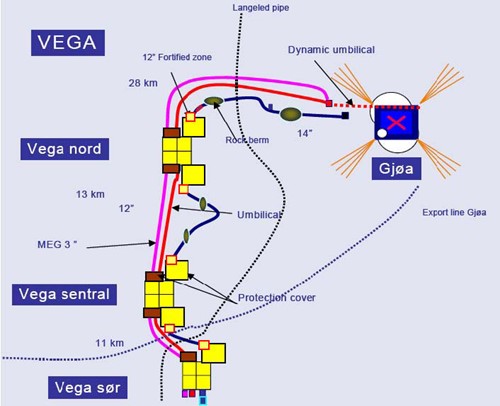 Instead of bringing the umbilical to surface to test, the new system will lower testing connectors down to the cable. Lowering testing equipment to the seabed will save time and lower costs.
Turning concept into reality
MacArtney designed a self-contained testing system with an electrical and fibre optic downline. The connector garage is lowered to the umbilical by winch and attached to connectors on the umbilical by ROV. Much like an underwater extension cable, the self-contained system measures insulation resistance, conductor resistance and time domain reflectometry.
The topside junction is placed and operated on the vessel and is designed to operate even during harsh weather conditions. The subsea junction box can withstand pressure of at least 50 bar and can be operated at depths of at least 500 metres.
The system tests the umbilical section-by-section, pre-commissioning the entire length of the umbilical flow line system before it is taken into use.
MacArtney Supply:
Topside junction box
Winch
Downline cable with reel
Electric and fibre optic stress terminations
Connector basket and subsea junction box
The Vega Project
Subsea 7's umbilical system for the Vega Project, a daisy chained installation including floweline expansion spools, static umbilical, dynamic umbilical and a 3" ID MEG line, is being installed during the 2009 season. At depths of approximately 380 metres in Norwegian sector of the North Sea, the installation will service the new Gjøa floating production platform.
About Subsea 7 and MacArtney
MacArtney and Subsea 7 have been working closely together for many years.
Subsea 7 is one of the world's leading subsea engineering and construction companies servicing the oil and gas industry. Our skilled and experienced multinational workforce, in excess of 5,000 personnel, supports our operations in the North Sea, North America, Brazil, Africa and Asia-Pacific. Subsea 7 has a strong focus on the growing, high-tech and high-value deepwater Subsea Umbilical, Riser and Flowline (SURF) sector, but also retains a leading role in the key shallower water markets in the North Sea and Asia-Pacific.
MacArtney A/S is a global supplier of underwater technology specialising in design, manufacture, sales and service of a wide range of systems to offshore operators, surveyors, the renewable energy sector, ocean sciences, security forces and navies across the world. MacArtney offers a range of advanced and reliable systems from proven components, cables and connectors, to state-of-the-art integrated packages, including fibre optic telemetry systems and remotely operated towed vehicle systems.