From apprentice with MacArtney UK to workshop manager with MacArtney Singapore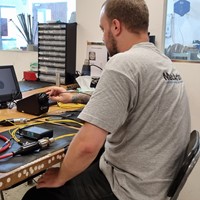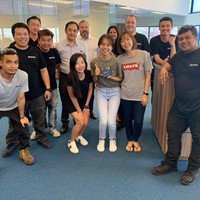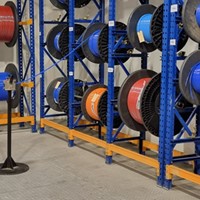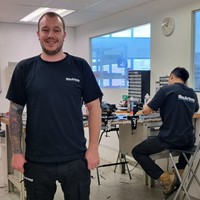 Despite his age of 28, Martin is already a MacArtney veteran. Having been with the company for over 12 years, he is an excellent source of knowledge on all things MacArtney.

Martin Buchan started with MacArtney UK at the age of 16, with a four 1/2-year apprenticeship comprising fibre optics and slip rings building, service, and repair, and is now a technician for both as well as a certified field engineer. 
Wanting to explore other parts of the world, Martin moved to Singapore in 2014 and helped set up the workshop servicing centre. He has built up a team from 2 to 4 employees in a workshop he now manages that supports the entire APAC region. Initially, the workshop only performed moulding tasks but now also offers support on fibre optics and slip rings. As Martin says,
 
"I would like the workshop to support the full range of MacArtney products. We are already looking to send the team to Denmark and Canada for product training to update their skill sets." 

Discussing future plans, Martin wants to assist clients outside of the workshop.
 
"We have a great team of engineers based here in Singapore, and we are looking to expand our service offering from workshop only to onsite service and support. We will draw on the MacArtney Groups' expert knowledge to help train and support the Singapore workshop. Furthermore, we will team up with colleagues from Denmark to achieve the right competencies for the tasks at hand throughout the region". 

Martin's know-how in setting up workshops took him to the MacArtney operations in Benelux for a year (2020 - 2021). When Managing Director Ron Voerman called, saying: Martin, we need your expertise to set up a fibre optics workshop here in Rotterdam; he jumped at the chance to work on this new and exciting project. With the Benelux office moving premises later this year, Martin is looking forward to putting his skills to the test again as he helps open the workshop at the new purpose build MacArtney Benelux facility. 
As the operations manager, Martin takes over from sales once the order has been placed, ensuring everything is correct; he then hands it onto the workshop. They fabricate and pot the cables or service the slip rings. His ambition is to get the workshop up and running as it was pre-covid, grow the team and take on new tasks.
 
"The wish is to expand our offering and expertise with the ability to work onsite with service and assist with SAT, etc. This is key to growing our support offering in the APAC region".