Oceanology International 2022 (Exhibitor)
| | |
| --- | --- |
| Where: | London, UK |
| When: | Mar. 15 - Mar. 17, 2022 |

Held in London, Oceanology International has firmly established itself as the world-leading forum to connect with the world's marine science and ocean technology communities. Every edition, Oceanology International brings together the latest technologies and thought leaders worldwide, and this is why the MacArtney Group keeps attending, presenting news, technology and knowledge.
OI2022 offers structured networking opportunities to help suppliers establish relationships and secure business on a global scale. The event is a world-class forum for sharing knowledge and connecting with professionals from the international marine technology and ocean science communities, intending to improve strategies for measuring, protecting, developing and operating in the world's oceans.
Boost your technical and blue economy knowledge, and connect with your industry colleagues.
The event houses and connects the manufacturers and users of ocean technology with a diverse spectrum of scientific, government and industrial stakeholders, technologists and engineers in one location.
Please meet us at stand D201
A dedicated team of MacArtney sales professionals, technicians and decision-makers - from almost all of our 21 operations worldwide - are ready to welcome visitors and answer any thinkable question about MacArtney systems, products and underwater technology solutions.
For more information regarding the MacArtney staff and when they will be available at our stand, please see the Stand Duty Plan, which will be uploaded later.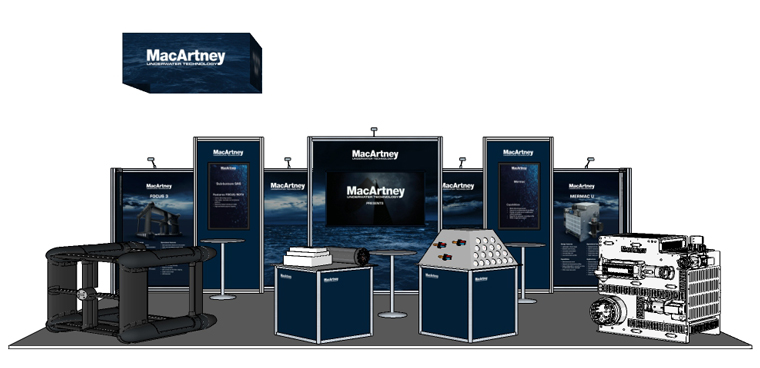 We are bringing
Connectivity (SubConn, TrustLink, OptoLink)
Winch solutions (MERMAC U)
ROTV solutions, including UXO detection equipment (FOCUS 3)
Telemetry solutions (NEXUS 8)
Connectors, cables, terminations, junction boxes and everything beyond and in between are involved in pretty much everything that we do. In many ways, connectivity and integration have paved - and still pave - the way for most other innovative MacArtney products and systems. MacArtney's 44 years of expertise in underwater connectivity fits in well with the OI themes, exhibitors and visitors. 
To secure connector deliveries within 24 hours, we have set up distribution centres, including
Large range stock capacity
Direct distribution worldwide

Win an Apple Watch!
Get your competition flier at our stand D201, complete the quiz (find the answers in the text on this page) and return the flier at the MacArtney stand before 10:00 on Thursday, March 17th for a chance to win an Apple Watch. 
The winner is drawn at noon and will be contacted directly. Good luck!

Read more about the event.