FOCUS 3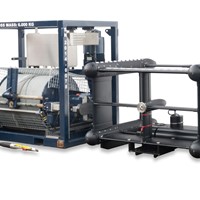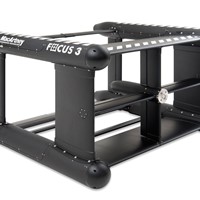 FOCUS 3 represents the 3rd generation FOCUS vehicles in the family of ROTV systems designed, developed and manufactured by MacArtney.
FOCUS 3 is the result of more than 25 years of constant product development and customer feedback. The design philosophy of the FOCUS 3 system remains the same as for the rest of the MacArtney ROTV systems: to provide a robust, easy-to-use, accurate, steerable, open and flexible instrumentation platform which can be deployed for a wide variety of underwater data acquisition and inspection applications.
The FOCUS 3 vehicle is constructed using carbon fibre technology for the wing sections like the successful FOCUS 2 and TRIAXUS vehicle designs, whereas the instrumentation pods are made from anodised aluminium, making them more durable for potential impact with the seabed. The instrumentation pods are bolted onto the wing sections through a modular design, allowing for onsite repairs of the vehicle in case of an accident.
The modular design of FOCUS 3 includes the option of increasing the wing sections allowing for operations at depths of up to 1,000 metres. Increasing the size of the wing sections also makes more space available for installation of more sensors on to FOCUS 3.
FOCUS 3 can operate a number of acoustic survey sensors and instruments simultaneously ensuring maximum usage of ship time.
The GUI is an easy-to-use Windows-based software package. The system is designed to carry a broad range of sensor packages from leading manufacturers of underwater equipment.
Survey equipment
Side scan sonar
Multibeam sonar
Synthetic aperture sonar
Mechanical forward-looking sonar
Mechanical scanning profiling sonar
Subbottom profiler
Magnetometer
Video camera
Laser line scan camera
Fibre optic gyro
Inertial navigation system
Bottom tracking doppler log
Responder for USBL 
The 1,000 metres rated FOCUS 3 features
Carbon fibre wing sections
Instrumentation pods made from anodised aluminium
Neutral to heavy trimming in water
Extended wing sections
Increased payload capacity
Pressure vessels with higher pressure rating
Internal and external cargo rails
Other features and benefits
Very stable, steerable instrumentation platform
Operating depth of 1,000 m at 5 knots
High and flexible payload capacity
Online data acquisition
High data transmission capacity; tens of GB
Software controlled steering functions
Built-in standard control sensors
User-friendly controls and displays
Modular, rugged and streamlined design
Low noise magnetic and acoustic signatures
Quick-change of sensors
Proven cost-effective survey tool
Applications
Pipeline inspection
Large area searches and MCM
Site surveys and seafloor mapping
Cable route surveys
UXO detection
Standard vehicle control sensors
Attitude sensor
Depth sensor
Altimeter