FOCUS 2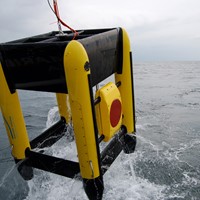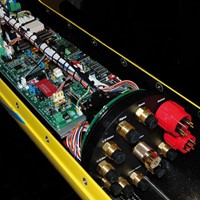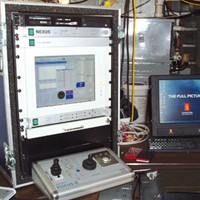 FOCUS 2 is the 2nd generation ROTV in the FOCUS and TRIAXUS families.
The vehicle is constructed using carbon fibre technology and is based on the successful TRIAXUS vehicle design. FOCUS 2 uses state-of-the-art computer technology and fibre optic telemetry for vehicle and sensor communication providing high data capacity in a very efficient package.
A powerful industrial PC controls the vehicle based on inputs from the onboard vehicle control sensors according to the pre-programmed flight path. The tow cable is a small diameter, low drag electro-optic cable.
It also supplies the power and control data to the vehicle. The high volume of data generated by the onboard instrumentation and sensors is transmitted to the surface via the NEXUS based fibre optic multiplexer system.
FOCUS 2 operates with a number of acoustic survey sensors and instruments simultaneously ensuring maximum usage of ship time. The system comprises the towed platform together with a user selected instrumentation package.
An electro-optic tow cable and a winch with a combined fibre optic and electrical slip ring. A user-friendly control and display unit with input and output for user selected sensors and instruments.
The system operates in depths of up to 400 metres at 2-10 knots with a controllable horizontal movement of +/- 80 metres. The cable layback ratio is a function of tow speed i.e. 1:5 at 5 knots and 1:3 at 3 knots.
The man machine interface (MMI) is an easy-to-use Windows based software package. The system is designed to carry a broad range of sensor packages from the leading manufacturers of underwater equipment including:

Survey equipment
Side scan sonar (analogue and digital)
Multibeam sonar
Synthetic aperture sonar
Mechanical, forward-looking sonar
Mechanical, scanning profiling sonar
Subbottom profiler
Video camera
Laser line scan camera
Fibre optic gyro
Motion sensor
Bottom tracking doppler log
Responder for USBL
Features and benefits
Steerable towed data collection platform
Highly stable in all planes
Operating depth of 400 metres at 2-10 knots
High data transmission rates
Software controlled steering functions
Built-in standard control sensors
User-friendly controls and displays
Modular, rugged and streamlined design
Low noise magnetic and acoustic signatures
High payload for multiple peripheral equipment
Quick-change custom buoyancy packs
Electro-optic tow-cable
Applications
Pipeline inspection
Large area searches and MCM
Site surveys and sea floor mapping
Cable route surveys
UXO detection
Standard vehicle control sensors
Attitude sensor
Depth sensor (Digiquartz)
Altimeter