MCDU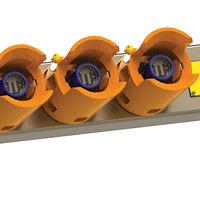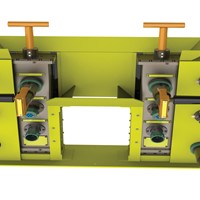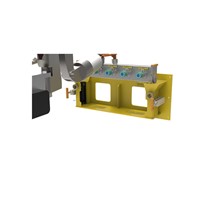 The Modular Connectorized Distribution Unit (MCDU) is a modular family of factory-qualified subsea distribution units that provide oil-filled, pressure-balanced junctions for flexible underwater configurations.
A new configuration has recently been introduced with a lighter, more cost-effective frame, highly visible ROV lifting handles, and wide openings to facilitate installation and removal of the housing. The compact frame design negates the need for lifting wires, making it easy for ROVs to install and retrieve the unit from the sea floor.  
​The MCDU has been recognized as an important component of subsea distribution. The compact size of the MCDU provides the ability to place connectors directly onto a pressure-compensated manifold, while increasing circuit configuration options both in quantity and type (electrical and optical together). The versatility is far superior when compared to the conventional harness assembly with fixed junction box arrangement.
Inside the MCDU is critical, in order to provide compensation, large molded elastomeric bladders enable deployment capability up to 3000 meters. Fiber optic circuits require splice management and in certain cases, input optical hermetic penetrators. Electrical circuits require splice solder joints and attachment depending on circuit distribution. All these key features are uniquely assembled and tested within the inner cavity of the MCDU manifold. The manifold itself is fabricated and welded from both stainless steel and titanium, depending upon the specific application. In addition, there is an option to include epoxy coating for those applications that require reduction of surface exposure to seawater affecting the CP system.
The retrievable MCDU option, allows for ROV intervention providing reconfiguration and correction of a system failure that otherwise would have resulted in extended downtime and significant cost implications.
The MCDU offers all these options all within a reduced footprint versus a typical harness assembly with a junction box and multiple hoses.
 
Key features
​Qualified, pressure-balanced subsea distribution units​
Fixed or retrievable options

Benefits
​

Reduces the use of individual subsea junction boxes.

​

Flexible configurations for a variety of wet-mate connectors