Flying Leads and Harness Assemblies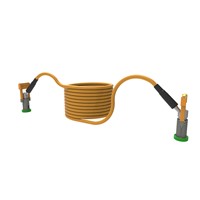 The assemblies consist of hose conduits, electrical conductors, optical fibers and elastomeric boots seals, with the addition of any combination of Nautilus electrical connectors, Rolling Seal optical/hybrid connectors, Nautilus Rolling Seal Hybrid connectors, penetrators and/or junction boxes.

Electrical Flying Leads (EFL)
Point to Point, pressure-balanced jumper assemblies. Up to 300 meter lengths and up to 12 electrical circuits

Electrical Harness Assemblies
Pressure balanced, multiple oil-filled hose sub-assemblies to a common junction box. Up to 10-Way distribution with custom options available.


Hybrid Flying Leads
Includes the use of Nautilus Rolling Seal Hybrid (NRH) connectors with (2) electrical power conductors, 1kV and up to (4) fiber optic circuits. 


Optical Flying Leads (OFL)
Point to Point, pressure-balanced jumper assemblies. Up to 300 meter lengths and up to 8 fiber circuits

Key features
O​il-filled, pressure-balanced assemblies designed with redundant sealing systems 


Essential components of subsea power and data networking systems.

Solutions include: Electrical Flying Leads (EFL), Electrical Harness Assemblies, Hybrid Flying Leads, and Optical Flying Leads (OFL)​

Benefits
​Extensive testing and decades of deployed hardware validate long operational performance life