FlameGuard™ P5-200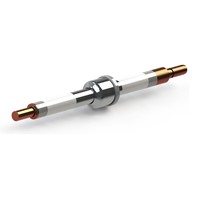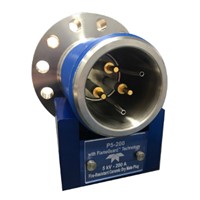 The FlameGuard™ P5-200 is a key enabling technology for a  5 kV - 200 A, three-phase dry mate electrical feedthrough system. Designed for offshore topside oil and gas platforms, where explosive and flammable conditions are likely, the feedthrough system is used to provide an electrical connection to downhole pumping systems. ​The feedthrough system is designed for dry tree operators and ESP pump manufacturers who want to reduce operating expenses over the life of the field, while improving system reliability and reducing safety risks.
The FlameGuard™ P5-200 penetrator forms the plug half of the connector, and is rated to withstand 5,000 psi. The ceramic penetrator insulation allows for a totally inorganic sealing barrier (metal-to-metal). The ceramic penetrators are sealed into their housing via brazing and welding. Sealing functionality is qualified in accordance with the following industry standards:
API 6A (PR2)
API 17D
API 6FB, Part II
With the P5-200, electrical interfaces can now be held to the same standard as flanges, valves, and control lines in the fire resistant envelope.
The ceramic material was developed in cooperation with Teledyne Scientific. The penetrator material allows use of typical downhole sealing technologies. ​Teledyne's extensive experience in materials qualification and reliability testing ensures a high-quality, comprehensive interconnect solution.

Key features
The oil and gas industry's first patented fire-resistant electrical penetrator reduces risk to personnel and assets
Higher voltages than fire-resistant penetrators currently on the market

Benefits
Modern, modular design (patent-pending) allows bulk of assembly and testing onshore to lower installation costs
Factory support and field installation assistance available globally​