LUXUS High-Power LED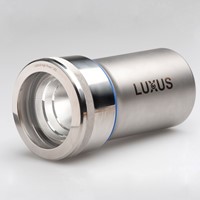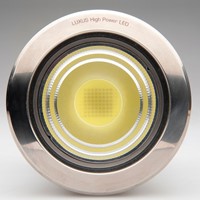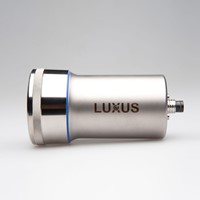 The LUXUS high-power LED is an ultra-bright LED light designed for tasks or environments that demand extra lighting. The LED has an output of 6,000 lumen and is available with different reflectors. It is ideal for ROV and underwater inspection applications.
It is a wet and dry light and can also be used in the splash zone. The electronics have an automatically resetting thermal protection switch to protect the LED and LED driver from high temperatures.
The LUXUS high-power LED can be dimmed with a reference voltage of 0 to 10 VDC and can be powered with a wide AC range from 90 to 250 V, and is available in a DC version. The light comes with a SubConn® or alternative customer specified connector.
The housing is made from sandblasted and polished titanium and has a depth rating of 4,000 metres.
 
Features and benefits
Very high output
Wet and dry
4,000 metre depth rating
Thermal protection
Applications
General underwater inspection
ROV systems
Trencher systems
Crawler systems
Tow and drop camera systems
Benthic sledge systems
Underwater observatory systems
Options
A range of different reflectors
Alternative connectors
Custom wiring
LUXUS universal mounting bracket
RS 232/RS 485 dimming (DC power supply)
9,000 lumen output