LUXUS Compact LED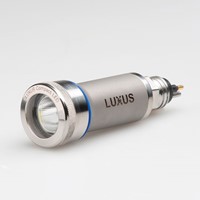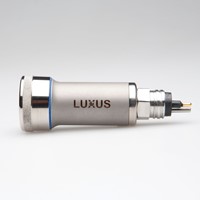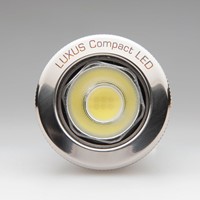 The LUXUS compact LED light is ideal for diving applications. The LED has an output of 440 or 780 lumen and is available with different reflectors. The LUXUS compact LED is a wet and dry light and can be used from 4,000 metres depth up to the deck without needing to be switched off. The electronics have an auto resetting thermal protection switch that protects the LED and LED driver from high temperatures.
The LUXUS compact LED can be dimmed with a reference voltage of 0 to 5 VDC, 0 to 10 VDC and can be powered with a wide DC range from 24 to 48 VDC. The LUXUS LED driver can be built into the LED light or placed in an external controller, allowing the light to be operated using only 2 wires. The light comes with SubConn® or alternative customer specified connectors.
The LUXUS compact LED is the smallest LED light in the LUXUS range and is designed to function perfectly in combination the LUXUS compact camera and LUXUS compact media controller.
The housing is made from sandblasted titanium and has a depth rating of 4,000 metres.

Features and benefits
Lightweight
Compact
Wet and dry
4,000 metre depth rating
Thermal protection
Applications
Diving applications
General underwater inspection
ROV systems
ROV manipulator systems
Trencher systems
Crawler systems
Tether management systems
Tow and drop camera systems
Benthic sledge systems
Underwater observatory systems
Winch and deck lighting
Options
440 lumen or 780 lumen version
A range of different reflectors
Alternative connectors
Custom wiring
LUXUS helmet mounting bracket
LUXUS universal mounting bracket
LUXUS pistol grip bracket
LUXUS dovetail bracket
Integrated brackets