CEMAC Linear Cable Tensioner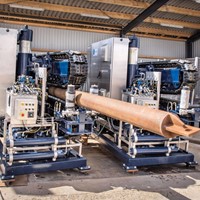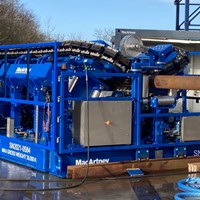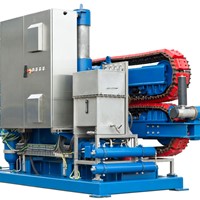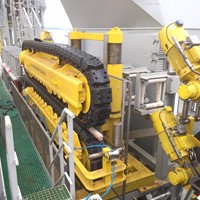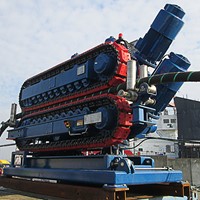 Delivering challenging subsea solutions from concept to completion, MacArtney specialises in the design and manufacture of offshore cable handling systems for the renewable energy industry, in particular, the offshore wind sector.
The CEMAC offshore track tensioners represent MacArtney's leading-edge offshore cable handling equipment. These track tensioners belong to the CEMAC product line, which incorporates both cable carousels, linear cable engines and power quadrants.
The electrically driven, CEMAC offshore track tensioners are robust and energy-efficient cable handling systems, which safely control the installation and recovery of offshore power and telecom cables.
The CEMAC track tensioners feature durability, high performance, and easy integration. Available in standard and custom configurations, they are easily combined with cable carousels, linear cable engines, power quadrants, spooling arms etc.
The CEMAC design represents compact and modular systems that are easy to mobilise and are cost-effective in terms of transport. All main components are standardised, which facilitates adaptation and upgrading to the required performance and capacity.
The MacArtney track tensioners are fully synchronisable with all MacArtney CEMAC offshore cable handling equipment. The track tensioners are also compliant with third party equipment enabling integration into existing and rental cable equipment lay-lines.
The CEMAC track tensioners are available with vertical and horizontal cable input, facilitating optimum operation for all deck layouts. 
The CEMAC track tensioners are available with a remote diagnostics tool, which enables MacArtney technicians to remotely monitor and supervise in real-time. By eliminating unnecessary offshore engineering support, this unique feature generates substantial cost-savings to the owners and operators.

Customised solutions
The electro-hydraulic CEMAC offshore track tensioners come in 2-, 3-, and 4-track versions complying with most project requirements and are designed to strengthen security.
 Features and benefits
Compact and modular design
Standardised and exchangeable components
Designed for easy integration
Optimised efficiency and decreased deck capacity
All structural components in painted carbon steel
Integrated control system
Electrically/hydraulically driven
Long and proven track record
Low noise operation
Fully integrated with vessel control system

Options
Top-loaded versions available

Wide-opening versions available
Remote diagnostics tool
Service and maintenance programme
Spare parts package
Remote control
Wireless remote control
Pinch status
Complete control system monitoring
Complete control system data log
Tarpaulin cover
Rental available
Certification according to DNVGL-ST-0378 (2.22), DNVGL-E2.7-3, and ILO 152