Innenlader for Concrete transportation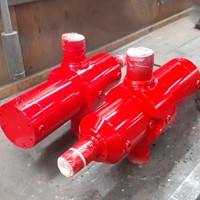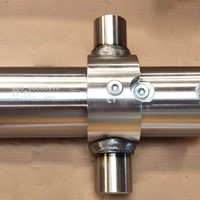 Challenge
Customer delivering special build trailers for trucks. Often these bespoke trailers have not been built before why fast development is required.  

Task
A quantity of special trailers has been sold for heavy load and with no room for rear axles. The heavy load requires 4 rear sets of wheels, and the law dictates that the last set must be able to steer. Already certified control systems require strict adherence to spec, volumes, and movement speed. Frist trial did not satisfy cooperation demand from the control system. 
Develop a 5 chamber cylinder 
Balance requirement from control, heavy load and speed of reaction in design
Estimate load and test to validate 
Final design and production on a very tight time schedule
A production-friendly model was needed after the first prototype build that needed to fit onto an already built trailer.

Solution
A study was made, jointly with the customer and the supplier of the control system, to balance the demand and the restriction. 
Test requirements defined to get data
Design model in 3D and test up against control system
Construction of the prototype rushed through the production
Design evaluation for a production model
Mutual cooperation with the customer made it possible, in a very limited time window, to develop a working model and a prospect for many future trailers to be produced.
Design | Construct | Test & validation | Produce