Our History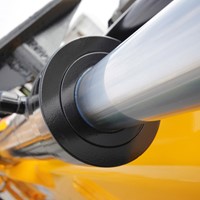 Founded in 1963
The beginning
The company was founded in 1963 by Vagn Kristensen and his brother-in-law Svend Erik Rasmussen, who started out in Vagn's father's garage. While they assured their customers that they could supply hydraulics, neither of them knew much about the technique, if we were to be completely honest. However, they delivered what they promised and, under the name Klinkby Maskinfabrik, continued to expand and supply hydraulics to more and more customers.
It all started with a lathe
The journey  - it all started with at lathe
They bought a brand new lathe, which they took turns working for 12 hours at a stretch until they could afford a CNC-operated one. In 1978, they were able to invest in their first CNC-operated lathe. By the year 2000, the company owned 13 CNC lathes and 6 machining centres.
Now
50 years later
Almost 50 years since its founding, the company is part of the MacArtney Group and goes by the name of MacArtney Hydraulics. Hydraulics is still our core competence, and we have delivered many different cylinders, both standard and highly specialised, over the past five decades.