MERMAC winch for seabed mineral exploration with Odyssey
Odyssey Marine Exploration (Tampa, Florida) has recently procured a powerful MacArtney MERMAC R50 AHC (Active Heave Compensation) winch for use onboard the R/V Dorado Discovery.

In partnership with St. Vincent Bay Exploration (SVBE) based out of Moss Landing, California, Odyssey will use the winch to deploy various seafloor exploration systems and equipment in the Pacific Ocean.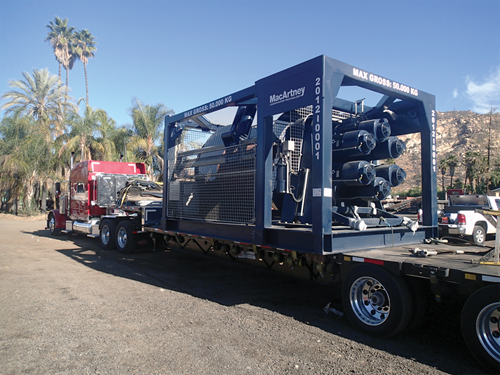 The arrival of the 'mighty MERMAC' was quite a headturner 

Deep-Ocean Exploration Pioneers
Principally renowned for its remarkable achievements as a world leading deep-ocean explorer of shipwrecks and sunken treasures, Odyssey Marine Exploration also holds a proven track record in the exploration and development of seabed mineral deposits. The company leverages the expertise of one of the industry's most experienced teams of ocean explorers as well as leading deep-ocean technology to advance the science of seafloor exploration and assessment.

Dorado Discovery
Odyssey operates the R/V Dorado Discovery, which is the first commercial purpose-converted research vessel designed to conduct a broad array of deep-ocean mineral exploration services. With this platform and specialised equipment, Odyssey is able to perform precision geophysical, geotechnical and geochemical surveys, detailed mapping, sampling, environmental assessments, drilling, and resource evaluations at depths up to 6000 metres.
Active heave compensation winch
Marking the latest addition of cutting-edge equipment onboard the Dorado Discovery the MacArtney MERMAC winch system offers a multitude of features to empower Odyssey and SVBE exploration missions.

As a member of the standard MacArtney MERMAC R family of winches, the system was readily available for delivery and rapid deployment. Boasting a potential cable capacity of 7775 metres and a pulling force of 195 kN on the bottom cable layer the MERMAC R50 AHC system offers powerful and versatile performance of any subsea equipment handling operation.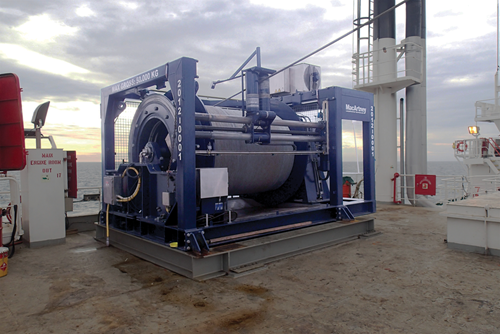 The MERMAC R50 winch in operation onboard the R/V Dorado Discovery

Enabled by its integrated Active Heave Compensation system, the winch is able to actively filter out the effects of vessel movement caused by high sea states hereby allowing Odyssey to expand its window of operation. Fitted with a drum mounted disc brake system, the winch can perform extremely accurate and safe equipment handling. Moreover, even when performing at full tension, the MERMAC R50 has a very low noise output.

Further, adding to the list for features and benefits, the Odyssey MERMAC R50 system was delivered with a long list of performance boosting options which are available with all MERMAC winch systems. These included internal cable water cooling, central lubrication points, emergency system recovery and the unique MacArtney Remote Access Tool allowing MacArtney winch and handling experts to remotely troubleshoot and service the winch in real time.

"The MacArtney winch has performed flawlessly through the at-sea acceptance test and in the trials of our new deep water seafloor drill. The Active Heave Compensation of the winch, allows precise landing of the drill on the seafloor with all motions removed," said Tom Dettweiler, Director of Mineral Exploration at Odyssey Marine Exploration Inc.