MacArtney supplies connectivity for ambitious transnational water pipeline project
To provide a secure supply of fresh water from Turkey to Cyprus, an ambitious transnational water pipeline project been approved and is under construction. MacArtney was contracted by AES and I4O to provide the underwater connectivity solutions for various instrumentation systems mounted on the pipeline.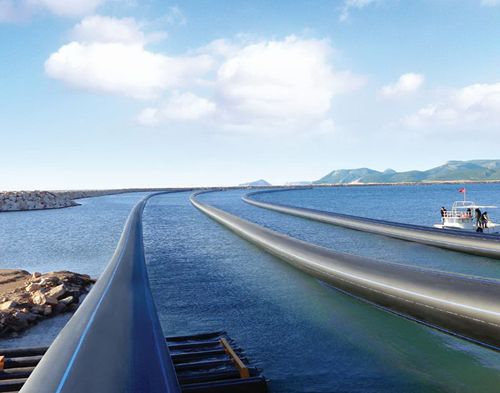 Sections of the pipeline are launched offshore Turkey
The world's largest drinking straw
In the first such project in the world, Turkey will soon be able to pump water directly to northern Cyprus with the help of an 80-kilometre water pipe running under the Mediterranean Sea at a depth of up to 280 metres.
The pipe will be buried for the first 3 km, lay on the bottom for the next 5 km, be suspended offshore for 65 km, lay on the Cyprus-side seafloor for 3.5 km and then be buried again for 1.6 km.
Symbolically named 'Baris Su' (Peace Water), the project will bring 75 million cubic metres of fresh water a year from the Turkish river of Anamur to Cyprus. About half of the water will be used for agricultural development and the other half as drinking water.
While the immediate aim is to provide water for the Turkish sector of Cyprus, authorities in Turkey insist that the Greek Cypriot administration in the south of the island can also benefit from the fresh water pipeline - and this could prove to be a catalyst in the ongoing Cyprus peace talks. Furthermore, Ankara hopes the technical knowledge gained in the course of the project could enable Turkey to export water and even hydrocarbons to countries in the Middle East.
MacArtney scope of delivery: Connectors, assemblies, penetrators and expert moulding
MacArtney has supplied SubConn® connectors to interconnect 145 cables of approximately 1000 metres length which will be attached to the water pipe. At 1000 metre intervals, MacArtney have built special interconnect 'T' assemblies to interface the ends of the cable and to attach sensors for measuring water pressure and other parameters. In addition to the cable interconnects and assemblies, MacArtney also provided 50 water blocked SubConn® penetrators moulded to pipe-attached transponders intended to warn submarines of the presence of the pipeline.
Within the scope of the project, MacArtney technicians have had to perform complex and challenging moulding to two versions of cable - an armoured cable used for the shore crossing and a non-armoured cable used for balance. Both cables have Polyethylene (PE) and Polyurethane (PUR) jackets.
The PE jacket requires the mastery of special moulding techniques to ensure a water tight bond. MacArtney designed and developed special bonding for SubConn® 10 pin Micro and Standard Circular connectors for this programme - with the terminations and assemblies being done at the workshop in Houston. Swift one-week delivery was the key to success for this project. With the help of a tremendous and dedicated work effort, MacArtney was not only able to meet - but to beat this steep time schedule.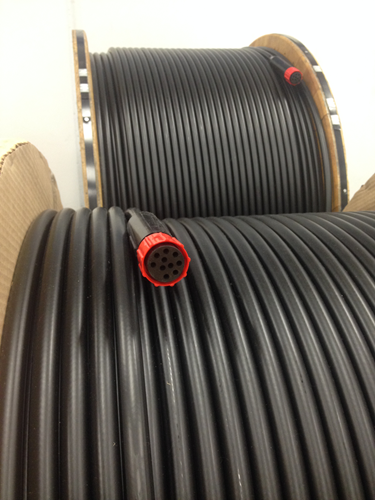 Ready for delivery - cable drums fitted with SubConn® connectors