MacArtney buys into trusted supplier A. Schmidt Marine El A/S
Danish based underwater technology company, MacArtney A/S, is pleased to announce that it has bought into its long-term supplier, the engineering company A. Schmidt Marine A/S. The strategic purchase of ASME A/S will allow MacArtney to extend and improve its winch range and further develop into the marine electric power regulation within the offshore renewable energy sector.
After many years working together to produce industry-respected, quality heave compensation winches for offshore work-class ROVs, MacArtney and A. Schmidt Marine El A/S, ASME, have further strengthened their ties with MacArtney's purchase of a share in ASME.
Closer cooperation for larger systems and new developments
ASME A/S produces high quality electronic control systems for winches, and the two companies worked closely in the development of the active heave compensation winch range,
already the world's leading handling system for offshore work-class ROVs. Having closer ties with ASME A/S will make it easier for MacArtney to develop and manufacture even larger systems with the complex control systems required by the offshore market.
MacArtney will also extend further into the offshore renewable energy market. Already a major supplier of infrastructure that transports power and signals from system to the onshore grid, MacArtney will now be able to further develop marine electric power regulation systems for offshore current and wave energy systems.
"We are very pleased to have an even closer relationship with ASME A/S. We can now work together to provide even better or larger systems, taking full advantage of the synergies and combined expertise of the two companies," explains CEO for MacArtney A/S, Niels Erik Hedeager.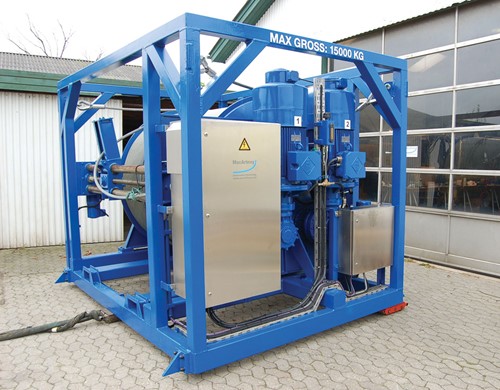 ASME and MacArtney are established names in the industry
ASME A/S has been developing and producing advanced PLC (programmable logic controllers) systems and electrical drive systems for marine and land-based industries for more than 25 years. Their team of engineers and specialists are renowned for their specialised electrical drive systems and frequency controllers designed to endure the harsh offshore environment.
MacArtney A/S is a global supplier with over 30 years experience in supplying and supporting products and engineering solutions to the worldwide underwater technology and offshore renewable energy markets.