Hydrostatic pressure testing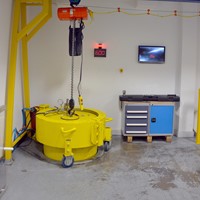 MacArtney offers worldwide access to cutting-edge hydrostatic pressure test facilities and services.
Empowered by our own purpose built pressure vessels, which are operated by highly trained and certified workshop technicians, we are able to put almost any type of underwater equipment to the test.
With a pressure capacity of up to 800 bar, MacArtney pressure vessels are able to simulate the hydrostatic operating conditions at up to 8,000 metres of ocean depth. In further support of simulating realistic subsea operating conditions and generating accurate results, the entire testing process can be computer controlled - with electric and optical measurements carried out in real time. Meanwhile, our in-house developed control software allows bespoke test programmes and repeated pressure cycling to be carried out. Offering a safe link to the tested equipment, dedicated penetrators are integrated in the pressure vessel lids. Moreover, most of our test facilities are fitted with a powerful overhead crane, which allows for the testing of large and unwieldy equipment. Finally, several of our pressure vessels feature live video monitoring.
All pressure test facilities are available for rent on an hourly or daily basis - complete with the assistance of certified MacArtney technicians. Full test reports can be provided in the form of a printed graph or as data log.
Features and benefits
Up to 800 bar pressure testing
High capacity pressure vessels
Overhead crane facilities
Computer controlled testing
Bespoke test programmes and pressure cycles
Real time electrical and optical measurements
Lid penetrators available
Detailed test reports
Testing performed by certified technicians
Options